Cardano is leading the stake able digital assets with more than 70 percent of total cardano supply is now locked in ADA network for staking.
Read: Analysis: What July 2021 Hold For Cardano (ADA)?
The amount staked in Cardano (ADA) network has increased to more than $31 billion. Cardano has also achieved a new milestone; ADA staking addresses have crossed 660,000, with more than 50,000 staking addresses have joined Cardano in the last few weeks.


On the Staking Rewards website (www.stakingrewards.com), which provides information about stake able assets, Cardano is number one at the time of writing. Ethereum 2.0 is in second place, followed by Solana (SOL), Polkadot (DOT) and Algorithm (ALGO).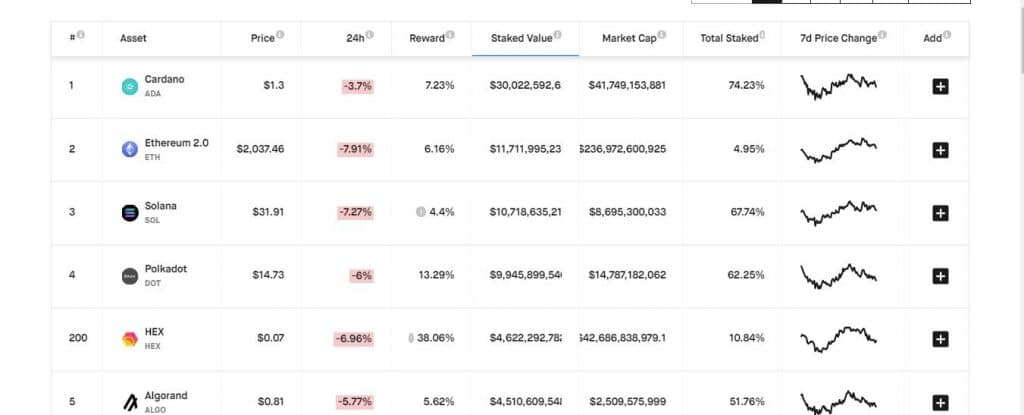 Such high anticipation is because Cardano plans to launch the "Alonzo" mainnet that introduces new features such as smart contracts as early as September this year. There are high expectations with this upgrades because of which 71% of the total ADA supply is in staking.
Read: Stasis And Occam.Fi Become Partners To Launch Euro Stablecoin On Cardano
Alonzo testnet was launched on May 27th. The testnet will go through different phases, First Alonzo Blue, then Alonzo White (June-July), and Alonzo Purple (July-August). The mainnet is scheduled to launch as early as September 2021.
Read Alonzo Details: The Road To Alonzo Continues-IOHK Launched The Cardano Alonzoblue2.0 Testnet, and Alonzo White Testnet Can Go Live Soon 
The most notable feature of this upgrade is the introduction of smart contract. Introduction of NFTs (Non-Fungible Token) and DeFi (Decentralized Finance) on Cardano, and the upgrade aims for a more scalable ecosystem.
According to "Pooltool.io" staking statistics, the amount staked in Cardano is worth about $31 billion. Total active addresses are 671,254, active pools are 2669 and 71% is of total Cardano supply is in staking.
Read: ADA Pay Continues to Grow As COTI Powered Wolfram Alpha Adopt ADA Pay For NFT Auction