Nasdaq-listed company Microstrategy has avoided a "multi-billion dollar mistake" by choosing to invest in bitcoin instead of gold. The company now holds about 108,992 bitcoins.
The Nasdaq-listed software company Microstrategy has avoided making a mistake that could have cost the company multi-billion dollars.
CEO Michael Saylor tweeted Sunday:
"If I had chosen Gold instead of Bitcoin last year, it would have been a multi-billion dollar mistake. It doesn't help to diagnose the problem if you don't choose the right solution."
As the chart below shows, if MicroStrategy would have invested in Gold rather than Bitcoin, the over $2 billion initial investment would have lost 80% of its value in one year. In the past 30 days, it would have lost 21% of its value.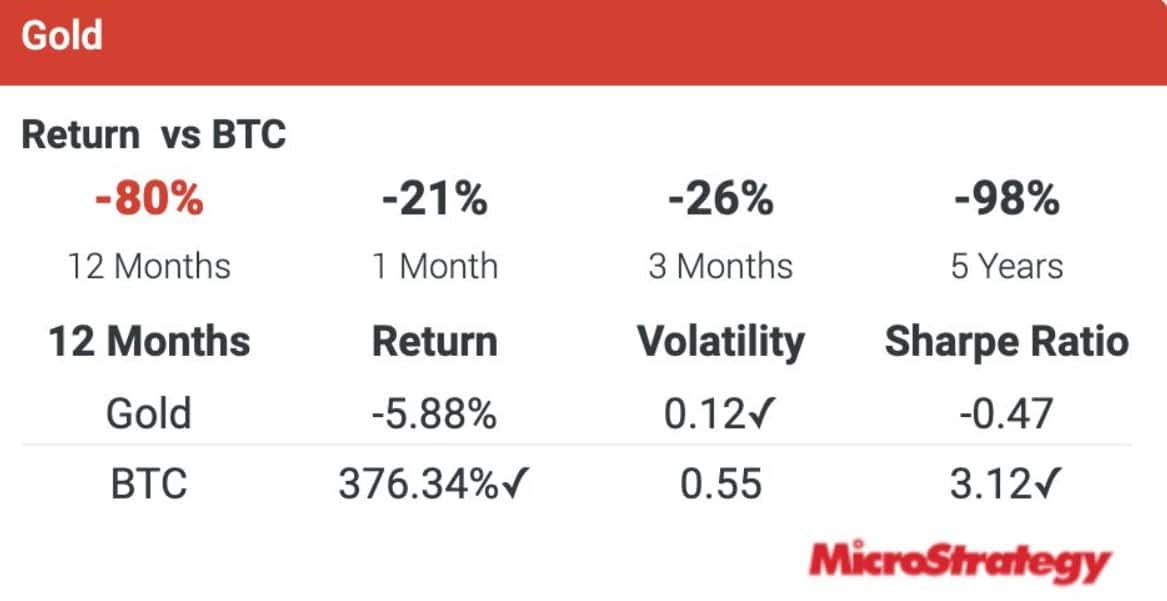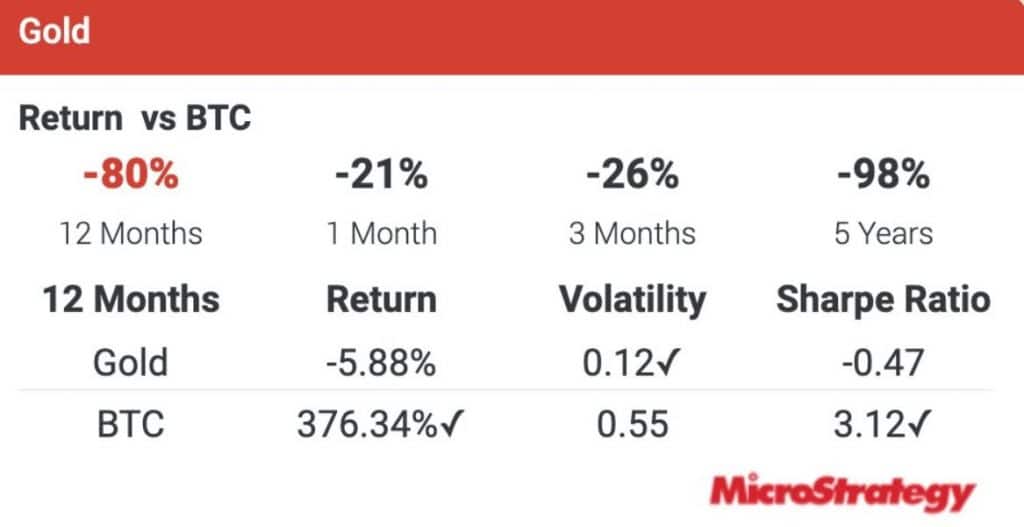 Data from monitor BitcoinTreasuries.org indicates that MicroStrategy owns over 100,000 BTC or 0.5% of its total supply. As seen above, this investment has seen a 376.34% appreciation in one year.




Additional data provided by Ecoinometrics suggest a correlation between MicroStrategy (MSRT) share performance and the price of Bitcoin. Since the company launched its BTC treasury program, its shares have experienced a 428% rally.
MicroStrategy Performance
Sep. 03, 2021

Since the start of their #Bitcoin treasury program:$MSTR +428%$BTC +338%$NASDAQ +43.9% pic.twitter.com/B6ZxMCbLRl

— ecoinometrics (@ecoinometrics) September 6, 2021
Bitcoin and MicroStrategy have managed to outperform two of the most important stock indexes, the NASDAQ and the SP500. The former has a 68.3% profit while the latter records a 54.8% profit since the software company announced its BTC treasury program.
Follow Us on Twitter and Facebook.
Disclaimer: This content is informational and should not be considered financial advice. The views expressed in this article may include the author's personal opinions and do not reflect The Crypto Basic's opinion. Readers are encouraged to do thorough research before making any investment decisions. The Crypto Basic is not responsible for any financial losses.
-Advertisement-