- Advertisement -

A century ago, Henry Ford, one of the world's most remembered entrepreneurs, presented an idea that he intended to trade gold for an energy-based currency.
Read: Edward Snowden: Government Digital Coins (CBDCs) Are A Conspiracy Against Society, And Will Ransom Our Future

His motivation was very simple, to end wars and take power away from the banks that control the game.
Henry Ford's idea was first published in the New York Tribune on December 3, 1921. The headline of the article reads "Ford Would Replace Gold With Energy Currency And End Wars."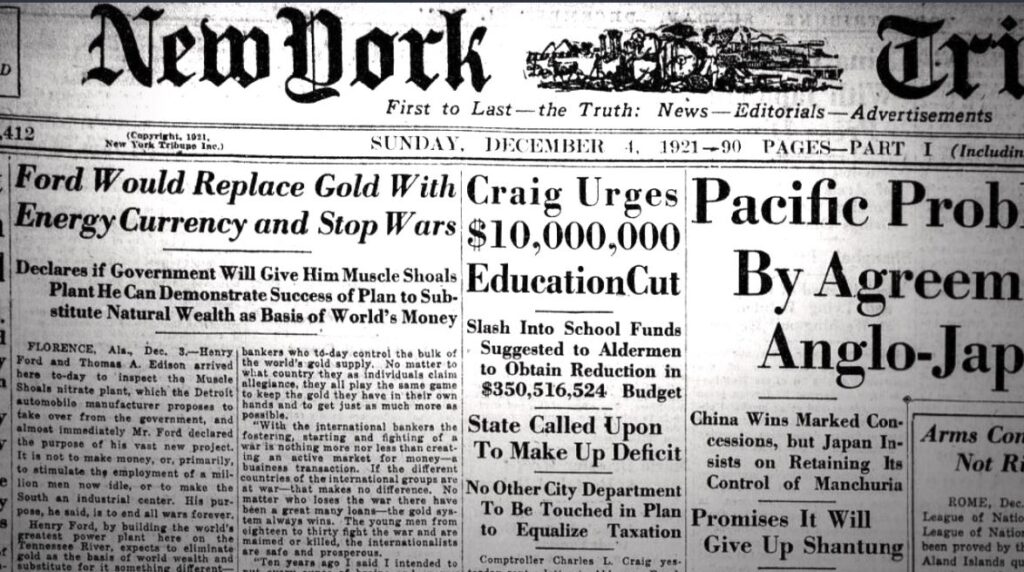 The famous creator of the Ford Motor Company theorized that the currency could be powered by kilowatt-hours (kWh) similar to the method that electricity is utilized to mine bitcoins.
Henry Ford was well ahead of his time. Ford's idea was very similar to the one mentioned in the Bitcoin white paper. Ford even came up with a location to present his idea at Muscle Shoals Dam. The wild and dangerous part of the Tennessee River, Muscle Shoals generates lots of energy since the dam is a source of power, flood control, and freshwater.
Read: El Salvador's President Shows First Steps Of Building The Most Awaited Volcanic Geothermal Bitcoin Mining Facility
Almost after 100 years, Bitcoin emerged, taking power away from banks and mainly using electricity not only to generate new BTCs but also to record transactions in a decentralized way.
Read: $30B of Money Daily Moving On Bitcoin Blockchain
Although Henry Ford participated in both great wars, indirectly by providing inputs and technologies, he is remembered for being a pacifist who thought the war was a waste of time, lives, and energy.
According to Ford, the main cause of all wars was gold and the banks were not worried about wars as their number of loans would grow.
His proposal, then, was to end this power of banks by generating an energy-based currency, by building a power plant on the Tennessee River.
Read: President Nayib Bukele Shares First Results Of El Salvador Mining Bitcoin With Volcanoes
Although 100 years is a long time in terms of technology, it is still possible to find similarities between Henry Ford's "energy currency" and Bitcoin.
Firstly, Bitcoin is heavily criticized for its high power consumption. Basically, we can consider that miners convert energy into a store of value, Bitcoin, which is a more advanced idea of ​​Ford's plans.
Another symmetry between the two projects is decentralization and greater security in the custody of Bitcoin than gold. While, in the days of the gold standard, all gold was stored in banks while the economy worked with notes and coins, bitcoin does not have this central custody point. Taking power away from banks.
Read: Federal Reserve Chairman, Fed Has No Intention To Ban Bitcoin Or Crypto
It is also worth remembering that, even with the gold standard in force at the time, the periods of the two World Wars were marked by episodes of hyperinflation, as governments began to print money to finance the war and, a large part of their workforce, focused on the war.
Read: Bloomberg Believes SEC May Approve Four Bitcoin ETFs For The First Time By The End Of October
While Bitcoin's energy consumption has come under fire, But US Senators like Ted Cruz, Senator Cynthia Lummis (R-WY), and former presidential candidate Andrew Young, support the cryptocurrency industry and see it as an opportunity against inflation.
Also Read: