- Advertisement -

The cooling off of Bitcoin derivates and on-chain spending indicates a continued bullish picture for bitcoin.
Read: Burger King Offers US Customers Bitcoin, Ethereum, and Dogecoin Giveaway
#Bitcoin is consolidating just below the ATH as derivatives and onchain spending cool off.

The total range of the October monthly candle was $23,205, larger in USD value than all trading history from genesis to Dec 2020.

Read More in the Week Onchain👇https://t.co/HiGho5B4ni

— glassnode (@glassnode) November 1, 2021
After renewing the all-time high, the Spent Output Profit Ratio (SOPR) values correspond to the signs of an early bull market. Holders are waiting for higher prices, not wanting to sell their BTC at current levels.
Keeping Bitcoin adjusted SOPR above 1 indicates the market's ability to absorb selling pressure without significant bearish pressure on prices.
Image Source: Glass Node
Analysts looked at the difference between Net Unrealized Profit/Loss (NUPL) based on BTC holders. It remained in the range of 0.5–0.75 values.
Historically, testing this range without going to lower levels has signaled renewed price growth in the coming weeks/months. Earlier, an exit from this range upwards led to a renewal of the historical all-time high in 2013-2014, 2017, and 2021.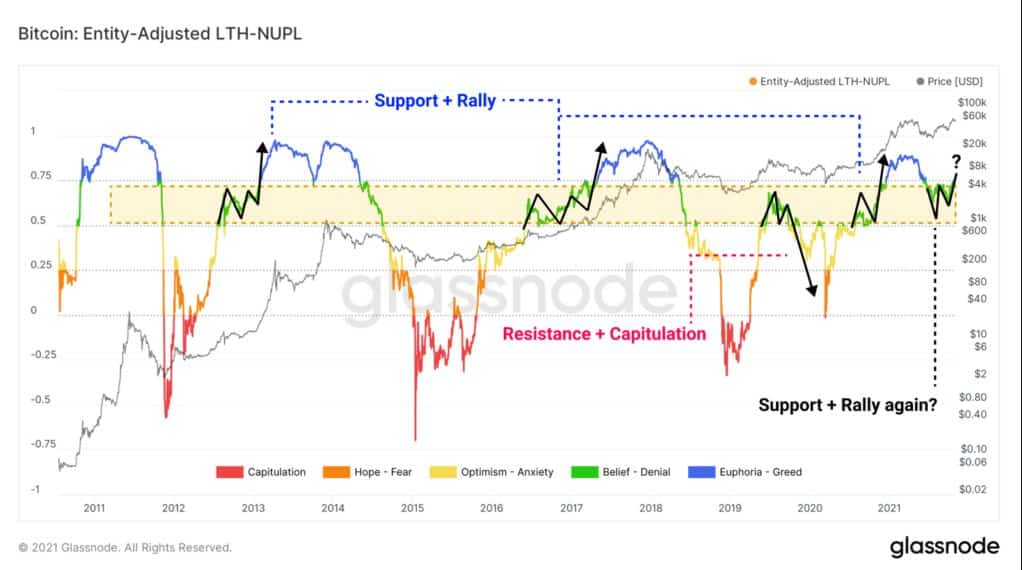 Image Source: Glass Node
In the BTC perpetual contracts market, financing rates are falling simultaneously while BTC  price is consolidating. This suggests a more cautious approach by traders, which is a healthy situation for the market as a whole.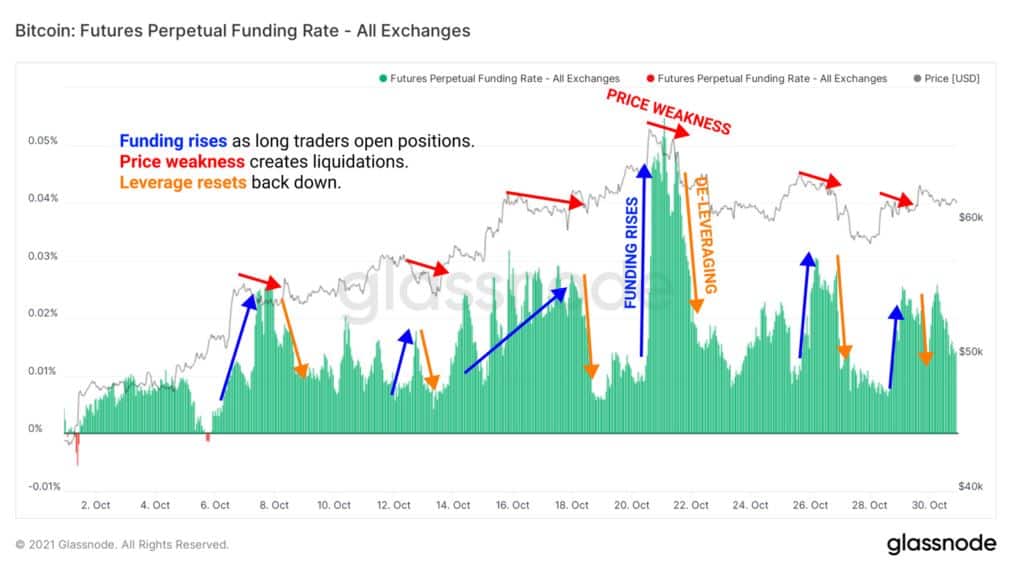 Image Source: Glass Node
Also, note Every time BTC broke an all-time high there were $3.5M long position liquidations per hour.
Image Source: Glass Node