Shiba Inu has gained exceptional attention during the last few weeks; as many new investors became SHIB holders.
Read: Crypto Whale Buys 20 Trillion Shiba Inu Tokens for $1.13 Billion

According to CoinMarketCap, the total number of Shiba Inu owners increased 31.1 percent from 706,808 to 926,684 from October 10 to November 8 in 2021. In the same time frame, SHIB's price has grown by almost 111 percent.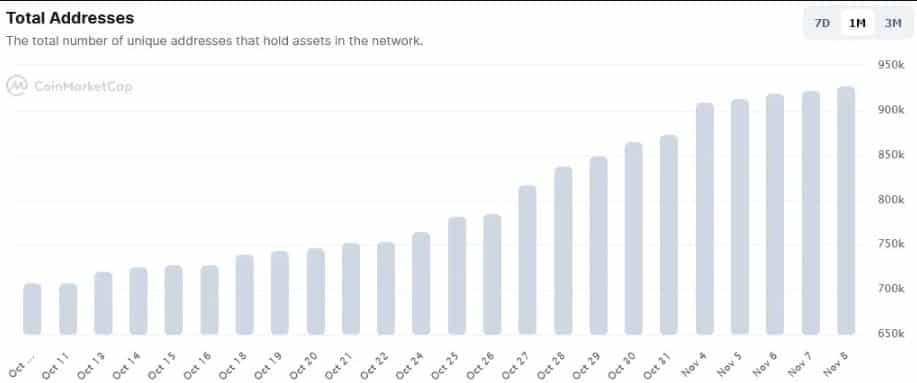 The increasing amount of SHIB holders is a sign of the escalating fame of the currency as SHIB continues to rise in value and draw prominent investors. It is worth noting that holders are potential retail investors that want to gain from the cryptocurrency.
Read: Shiba Inu Twitter Followers Are Now More Than Ethereum
SHIB holders motivated by the possibility of higher returns
SHIB is gaining intense attention and becoming famous, this point is further supported by the fact that investing in SHIB has already made many millionaires. As of September 9, 2021, investors had the opportunity of becoming SHIB millionaires with only $7, purchasing 146000 tokens for only $1.
Read: National Football League (NFL) Player Brandon King Is Buying More SHIB
SHIB gained popularity was also due to its listing on Coinbase, which increased capital inflows by $870 million in just 24 hours, making US investors easily buy and hold Shib. Coinbase has also made it possible for New York residents to buy and hold SHIB.
SHIB community is also pushing to get SHIB listed on Robinhood.
SHIB adoption and popularity are not stopping here, World's Largest Theater Chain, AMC is also seriously thinking of adding SHIB as a payment method for movie tickets.