NFL player posted on Twitter that he is buying more Shiba Inu coins.

Brandon King, who plays for the New England Patriots in the National Football League (NFL), said on Twitter that he has purchased more SHIB tokens.
Im buying more #SHIB

— Brandon King (@BrandonKing4787) November 4, 2021
At the moment, the SHIB is trading at discount after falling almost 50% from its record-breaking maximum of $0.00008845.
Brandon King has been busy buying Shib whenever any dip comes.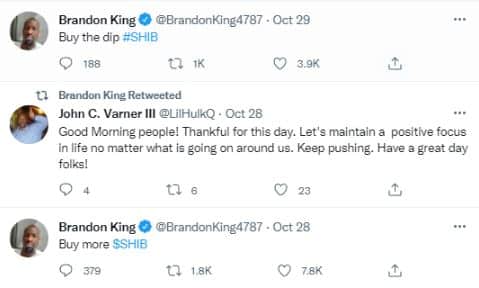 American rapper and  Vine vlogger also known as FunnyMike posted on Twitter that he bought 817.4 million SHIB by investing $60,000 in it.
The SHIB price jumped recently in response to reports of Kraken exchange listing SHIB, But the crypto trading platform did not keep its promise at the final moment, leading to huge disappointment for the Shiba Inu community.
In the meantime, the petition on Change.org asking for SHIB to be added to Robinhood has received more than 500k signatures.