The Solana network continues to experience problems in processing transactions, but that hasn't stopped the price of SOL from rising higher.

This coin appeared on the market as a better project than Ethereum, with the smart contracts and Dapps features that make Solana a close competitor of Ethereum.
Considered promising, SOL has attracted the attention of many technology leaders around the world. One of them is Reddit co-founder Alexis Ohanian, who announced that he will be investing $100 million for building social media on Solana.
Why is Solana's price increasing?
One of the reasons that made Solana price increase is the arrival of the NFT sales platform called Fractal.
Although it looks like just another NFT marketplace, the prominent thing is it is being launched by Twitch social network co-founder Justin Kan. On Twitter, Kan stated that he never thought he would be a founder again, but that he always liked the connection with games and games creators.
I never thought that I would ever be a founder again.

Well…l'm back.

I've spent a lot of my career connecting games, creators, and gamers. @Twitch is already a big part of the metaverse.@fractalwagmi is the next step.

[thread]https://t.co/D9Hl8zktPx

— Justin Kan ❄️ (@justinkan) December 13, 2021
Kan justified his platform launch on Solana, saying the SOL network is more robust and with low transactions costs and high speed.
"We are starting with the Solana blockchain, as we see the low cost and high speed of transactions as appealing to game creators who want to have a high number of in-game assets."
With the arrival of Fractal, the price of Solana is rising, becoming one of the highest rising coins in the 10 biggest currencies. SOL is currently trading $175.16, with a price change of +8% in the last 24 hours.
Solana Network Continue To Encounter Issues
Solana network continues to face problems and transaction failures. That is because, in the last few days, the network was the target of DDoS attacks and ended up being slow to process transactions.
In our search using the block explorer Solana Beach, we found that that the network remains slow and the SOL data is not accurate.
"Solana Beach is having trouble keeping up with Solana's blockchain. Some statistics you see here may not be accurate. Please be patient. Everything should be fine soon."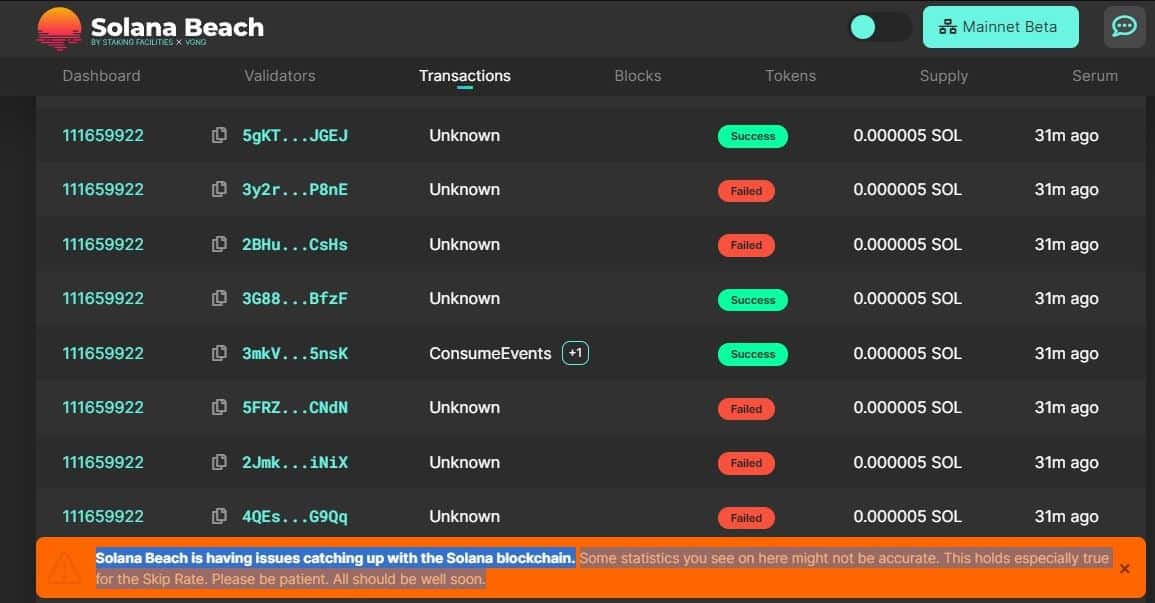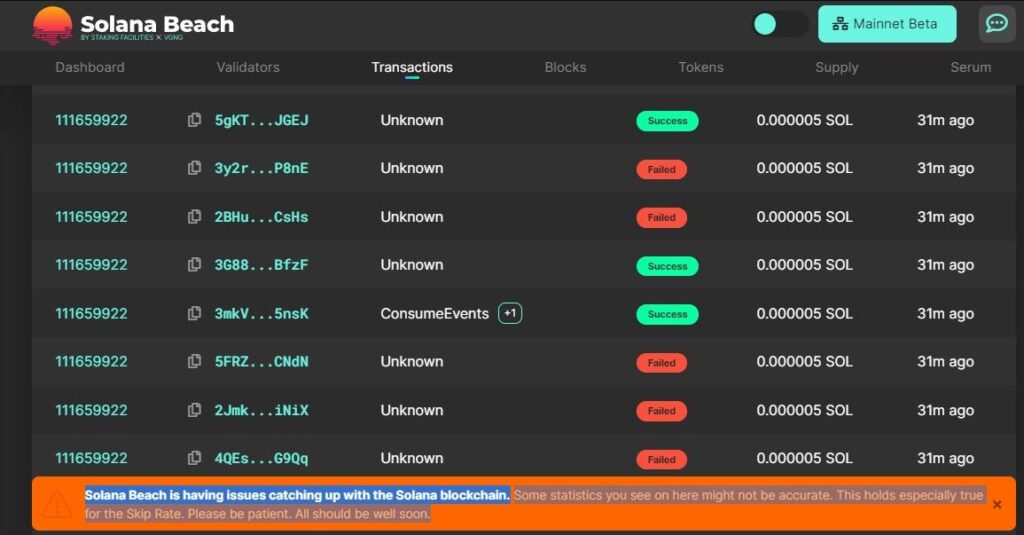 In addition, the CEO of Veribit, Roy Murphy also detected that SOL transactions are failing, indicating that a 50 billion top 5 market cap digital asset is losing over 2000 transactions every second.
⚠️WARNING⚠️

Over the last 24 hours, more than 60% of all Solana transactions have failed. That's right, a $50 billion top #5 market cap digital asset is losing over 2000 transactions every second! Just switch it off already! pic.twitter.com/CYf1RZf3Ic

— Roy Murphy ⛩ (@murphsicles) December 15, 2021
Despite slow network and transaction failure, investors still prefer to invest in Solana as the price of the coin is rising back leaving behind the DDoS attacks.
Read More On Solana:
Follow Us on Twitter and Facebook.
Disclaimer: This content is informational and should not be considered financial advice. The views expressed in this article may include the author's personal opinions and do not reflect The Crypto Basic's opinion. Readers are encouraged to do thorough research before making any investment decisions. The Crypto Basic is not responsible for any financial losses.
-Advertisement-