NEAR up 70% in a week, making a new all-time high along with LUNA.

On Monday, December 27, the price of the NEAR platform token (NEAR) touched $16.39 making a new all-time high. The asset gained 70.5% in the past seven days, according to Coinmarketcap.
Over the past day, NEAR increased by 3.3%. At the time of writing, NEAR is correcting and is trading at $15.1.
The major increase in price is due to the fact that the top DeFi project Terra (Luna) deployed its stable coin UST on the NEAR and Aurora ecosystems. After the announcement price of the NEAR rose from around $8.8 to $16.39.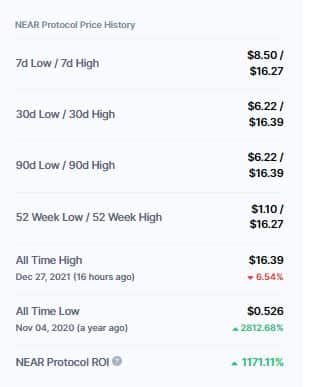 NEAR Protocol has given 1171% since launch.
Terra (LUNA)
On December 24, LUNA broke the $100 mark, setting an all-time high of $100.84 while market capitalization exceeded $36 billion.
LUNA ranks ninth in terms of capitalization. LUNA 7 day low was $76.96, Over the past seven days, LUNA has also grown by almost 41%. Today on December 27th, LUNA made a new all-time high of $103.33, Currently, the coin is consolidating at $95.97 according to Coinmarketcap.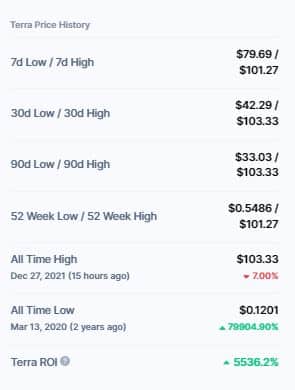 LUNA has provided a 5536% return on investment since takeoff.
In December, the total value locked (TVL) in the Terra exceeded $18 billion. According to stats, Terra is in the second position only after Ethereum in terms of TVL. Backed by the native LUNA token, the algorithmic stable coin UST is a key element of Terra.
NEAR And Luna Both achieved a fresh all-time high today.