- Advertisement -

Goldman Sachs has come up with some optimistic predictions for Bitcoin.

Goldman Sachs's recent data show that many investors prefer Bitcoin as a store of value over gold. According to the bank's 2021 return scorecard, Bitcoin was able to outperform all capital markets, including Nasdaq, S&p 500. Gold was able to post only a 4% return throughout 2021, becoming less attractive to investors.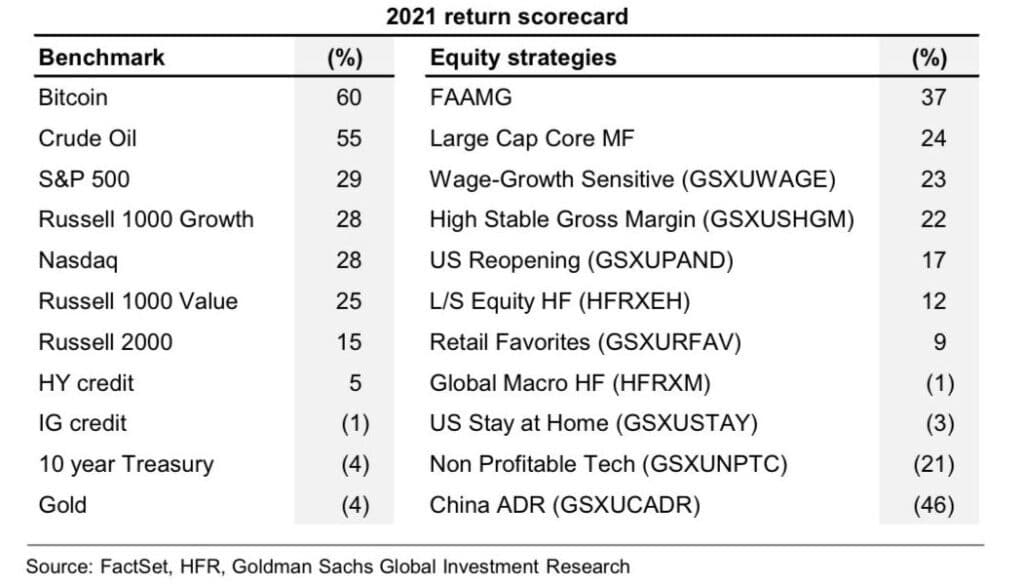 According to the Goldman Sachs 2021 return scorecard, BTC was able to post gains above 60%, leaving behind Crude oil (55%), S&P 500 (29%), Nasdaq (28%), Even high-value equity baskets such as FAAMG gave returns of just 37% in 2021. In the Goldman Sachs 2021 return list, gold was the biggest loser, with returns of only 4%.
This shows that BTC is becoming popular among traditional investors who see it as a better store of value than other capital markets.
3ac CEO, Zhu Su commenting on Goldman Sachs 2021 return scorecard, said:
"The demand for gold as a store of value is inter-subjective. I don't know any wealthy ppl in my generation who own any gold. Have no gold objects in my homes, no gold on my items; no jewelry GLD ETF has been in continuous redemption mode since Covid money-printing started."
Bitcoin Can Reach $100,000
Goldman Sachs further said that Bitcoin would continue to take market share from gold and reach $100,000.
Goldman assesses that Bitcoin's floating-adjusted market capitalization is just under $700 billion. According to the bank, that accounts for 20% of the 'store of value' market, which is made up of bitcoin and gold. If Bitcoin can take 50% of the store of value market in the next five years, its price would increase to just over $100,000.
The bank further said:
"Bitcoin may have applications beyond simply a "store of value"—and digital asset markets are much bigger than Bitcoin—but we think that comparing its market capitalization to gold can help put parameters on plausible outcomes for Bitcoin returns."
Predictions from BTC enthusiastic keeps on coming. Fundstrat's Tom Lee and Bitcoin Capital Co-founder Max Keiser see Bitcoin price above &200,000 soon.
MicroStrategy CEO Michael Saylor who holds 17,732 BTC while his company owns 122,478 BTC, foretells that Bitcoin will reach $600,000.
Mythical investor Ray Dalio is against all these forecasts; according to him, BTC will not be able to exceed 20 percent of the gold market cap.
Previously Goldman Sachs predicted that Ethereum price could rise to $8,000 if historical correlation with inflationary expectations persists.