Undoubtedly, Ethereum remains at the top of the list of active developers, but NEAR, Solana, And Terra saw the most growth in developers.

Jeff Kauflin of Forbes dives into ElectricCapital's report that shows which blockchains attracted the most developers in 2021.
Electric Capital compiled the data from GitHub, the go-to online repository where developers store their code, to estimate how many developers work on each platform. However, their data underestimates the total number of developers as the code written privately cannot be captured by GitHub.
Electric Capital research data prove the crypto industry's growth as the developers actively working on cryptocurrency platforms increased from 8,000 to 18,000 in just one year.
This figure comes after analyzing 500,000 sets of code and 160 million code updates by Electric Capital.
Avichal Garg, a managing partner at crypto-focused venture firm Electric Capital, said:
"Developers tend to be pretty rational. If there's something they can play with that has real utility, developers have this ability to go find that thing,"  He views the number of developers working on a crypto network "as a leading indicator of where value will be created and accrue; over the next ten years." 
Looking into the data, Electric Capital found that Ethereum is leading all the platforms, as the research found that 1,300 full-time developers are busy creating applications on it. While Polkadot comes second with 529, then Cosmos 303, Solana 228, Bitcoin 217, Near 137, Cardano 118, Kasuma 110, Tezos 86 while Binance smart chain had 84 active developers as of Dec 21.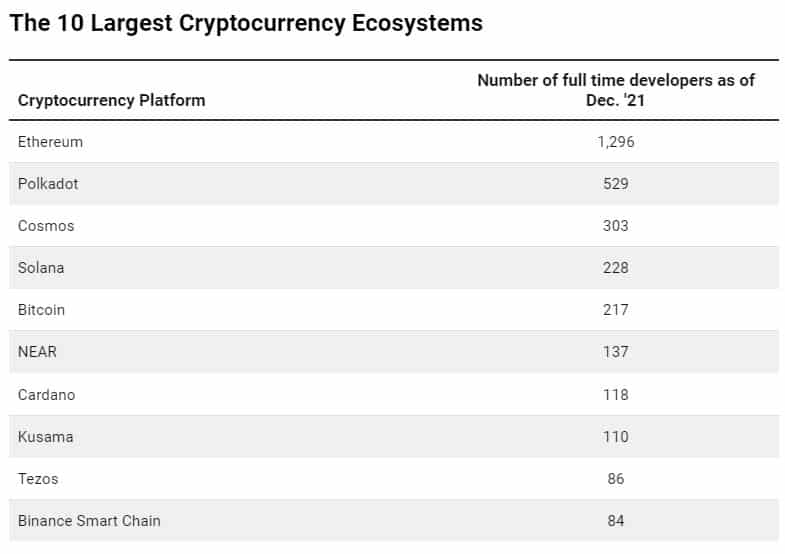 In terms of growth in full-time developers, Solana (SOL), Near Protocol (NEAR), and Terra (Luna) attracted hundreds of developers, surprising many crypto gurus. Terra active developers rose by 313%, while Solana and Near active developers increased by 307% and 291%, respectively.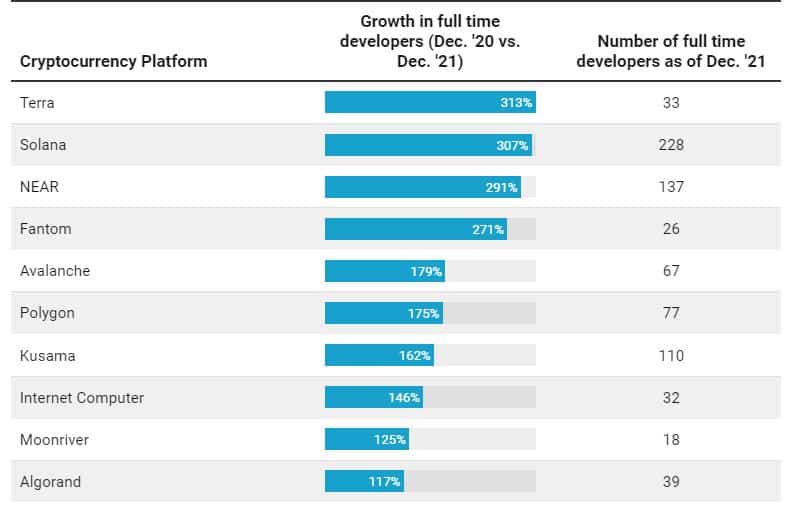 Solana and Near are famous for offering grants to software developers who agree to build applications on their respective systems.
Several applications built on the Solana range from crypto trading exchanges and lending products to music apps, all have gained immense popularity.
The research concludes that Ethereum is still the top choice of the developer as one in every four new crypto developers who entered the industry over the last year chose to build on Ethereum.