- Advertisement -

Dogecoin (DOGE) traders lost nearly $18 million in liquidations in the early morning hours of Friday after the coin rose 14% after the Tesla announcement.


The numbers were much higher than liquidations of Bitcoin or Ethereum futures, which generally have the biggest liquidations among all cryptocurrencies due to increased trading volume.
Data from analytics tool Coinglass showed that 60.81 million Doge coins were liquidated on various cryptocurrency exchanges. The meme coin on exchange OKEx had $7.71 million in liquidations, while futures products on exchange Binance had $2.75 million in liquidations.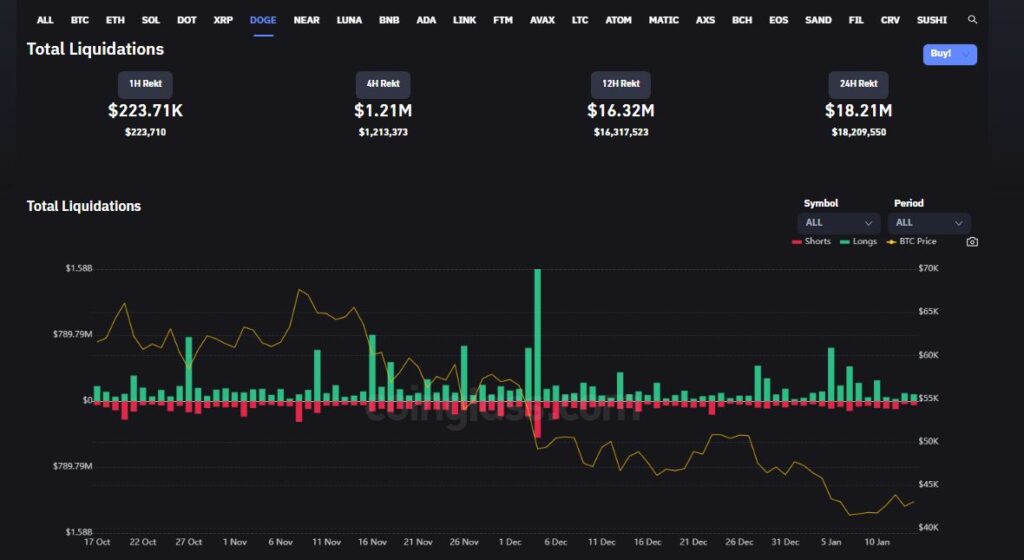 The liquidations occurred when the cryptocurrency price soared on Friday after Elon Musk's announcement that electric car maker Tesla would accept DOGE as a form of payment for some products.
Elon Musk, the CEO of Tesla Motors, is known to be the Father of Dogecoin. He wins this title because of his consistent support for Doge and how his tweets influence the price action of Dogecoin especially. Maybe many people reading this article don't know; Elon Musk has been a die-hard supporter of Dogecoin since 2019.
In August 2021, Dogecoin announced a news Foundation Behind It With Vitalik Buterin As Board Advisor Along With Elon Musk Representative Jared Birchall. In December, the Dogecoin Foundation presented a roadmap for turning the meme coin into a more technical project. It was the first roadmap in Dogecoin's eight-year history and explored eight new projects, including the launch of LibDogecoin and GigaWallet implementations.
Dogecoin was trading at $0.20 in the early hours of Friday, up 25% from the $0.16 price seen late on Thursday. However, at the time of writing, the digital asset has taken a slight dip and is priced at $0.19.