- Advertisement -

Babydoge has become the most traded crypto among top BSC wallets and secures a leading position in the trending crypto in Turkey.
Baby DogeCoin (BabyDoge) has flipped Ethereum (ETH) to become the most traded and the most purchased token among the top 1000 Binance Smart Chain wallets during the last 24 hours, according to the data provided WhaleStats.
The data indicate that BSC Whales have bought 4,732,712,113,781 (4.7 Trillion) Baby Doge Coins on average at an estimated value of $19,300 in the 24 hours.
The data suggest that Binance Smart Chain's whales have found a new canine-themed token, "BabyDoge," with the potential to show astronomical gains soon after Shiba Inu (SHIB) and Dogecoin (DOGE).
In addition, Baby DogeCoin was recently trending in Turkey, according to CoinGecko stats.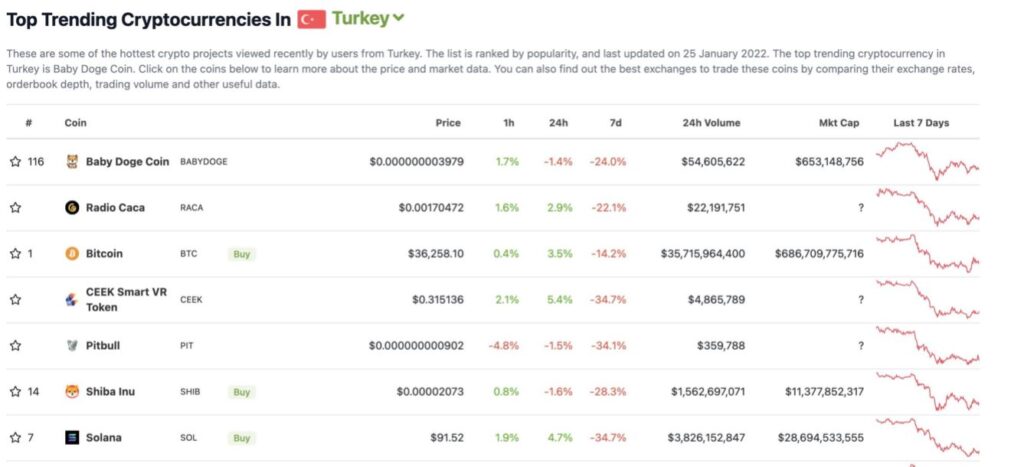 Image source: Coingecko

BabyDoge was launched in June 2021 and set a new all-time-high price record on January 16. The all-time high (ATH) price of the token is recorded as $0.000000006345.
CoinGecko data shows that the token price has grown more than 4200% since its launch surviving the recent widespread selloff in the global crypto market, and is currently trading at the price of $0.000000004154, up more than 1.9% for the day.
Like Shiba Inu (SHIB), BabyDoge Community is also strong and growing day by day. According to the reports, the meme coins Telegram group overflowed in January such that a new group had to be opened to accommodate new fans.
BabyDoge's official Twitter handle has just surpassed 86K followers. Baby DogeCoin is now leading Shiba Inu (SHIB) holders. The current holder count for BabyDoge stands at 1,336,108 (1.3M) compared to 1,157,287 (1.15) holders count for SHIB token.