- Advertisement -

1.35 Billion Shiba Inu (SHIB) Burnt Within Past 24 Hours, Burn Rate Skyrockets 16865.91%.

Over 1.35 billion Shiba Inu (SHIB) tokens have been burned within 24 hours. The burning rate skyrocketed to 16865.91% compared to the previous day.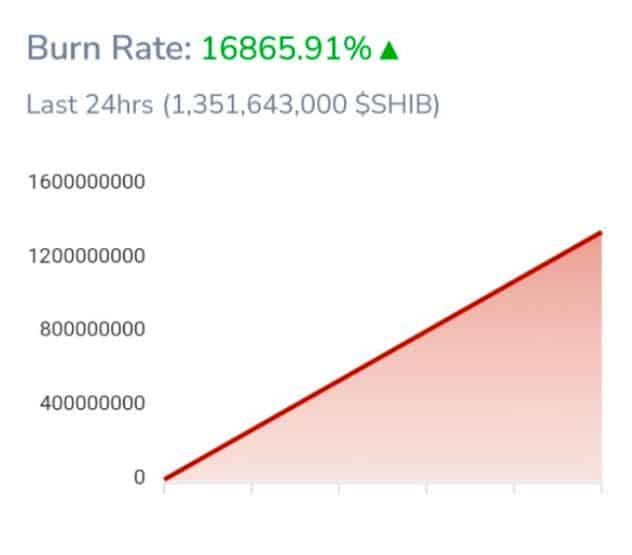 Shibburn.com recently released a previous day burn figure and reported that 1,351,643,000 (1.35B) SHIB tokens through 14 separate transactions had been sent to the dead wallet by the community-led burning initiatives during the period of last 24 hours.
In the past 24 hours, there have been a total of 1,351,643,000 $SHIB tokens burned and 14 transactions. Visit https://t.co/t0eRMnyZel to view the overall total of #SHIB tokens burned, circulating supply, and more. #shibarmy

— Shibburn (@shibburn) April 9, 2022
The burn rate is showing a change of a whopping 16865.91% over the last day when only 9,849,712 (9.84M) SHIB tokens were taken out of circulation forever through 3 separate transactions.
ScareCrow (SHIB Protector) Auto-Burn Mechanism:
Upon investigation, we found that ScareCrow (SHIB Protector) auto-burn mechanism is responsible for such massive burning. The ScareCrow token's auto-burn mechanism alone sent a whopping 1,248,074,298 (1.24B) SHIB tokens to dead wallets through 10 separate transactions, as per data provided by Shib Burn.
ScareCrow (SHIB Protector) is also a newly emerged token using a unique auto-burn feature for SHIB. The token applies a 3% Buy Tax, 8% Normal Sell Tax, and 25% Early Sell Tax on holders that sell Scarecrow tokens within 24 hours of buying. ScareCrow automatically uses the taxed amount to buy SHIB and burns whenever someone buys or sells tokens.
Scarecrow has no official relation with the SHIB ecosystem or its team. Only SHIB, BONE, and LEASH are part of the Shiba Inu ecosystem. Therefore, investors should research before investing in such kinds of tokens.
Impact on SHIB Price:
Despite this massive burning, SHIB remains on the back foot. The popular dog-themed currency is trading at the price of $0.00002383, down -4.74% over the last day, while the 24-hour trading volume currently stands at $616,518,488.14 ($616.51M).