Old Deleted Tweets Link Elon Musk & Vitalik Buterin as the Developers of Shiba Inu (SHIB).
The popularity of Shiba Inu (SHIB) in recent times has made many people research the real identities of the developers of the dog-themed cryptocurrency project. 
However, all efforts have ended in futility as no one has seemed to be able to unmask the real identities of the team behind the project. 
While many people seem to have resigned to fate and settled with the pseudonymous founder of the project, Ryoshi, a new analysis by Watcher Guru, a cryptocurrency media outlet, suggests that the real developers of Shiba Inu are popular figures in the cryptocurrency space. 
According to the analysis, the CEO and founder of Tesla, Elon Musk, and Ethereum co-founder Vitalik Buterin are reportedly the founders of the dog-themed cryptocurrency. 
Citing April 19, 2019, old tweets that have been deleted, Musk made a post on microblogging platform Twitter, which reads "Ethereum," a move by the Tesla boss to convince the Ethereum co-founder not to give away more free ETH. 
Moments later, Buterin invited Musk to attend the blockchain project's event dubbed Devcon in Osaka, which was scheduled for October 2019. 
"You should come to our Devcon in October," Buterin replied. 
Musk then proceeded to ask Buterin "What should be developed on Ethereum." It did not take long before Buterin hurriedly deleted the comments, suggesting that the duo could have moved the conversation to a direct message (DM).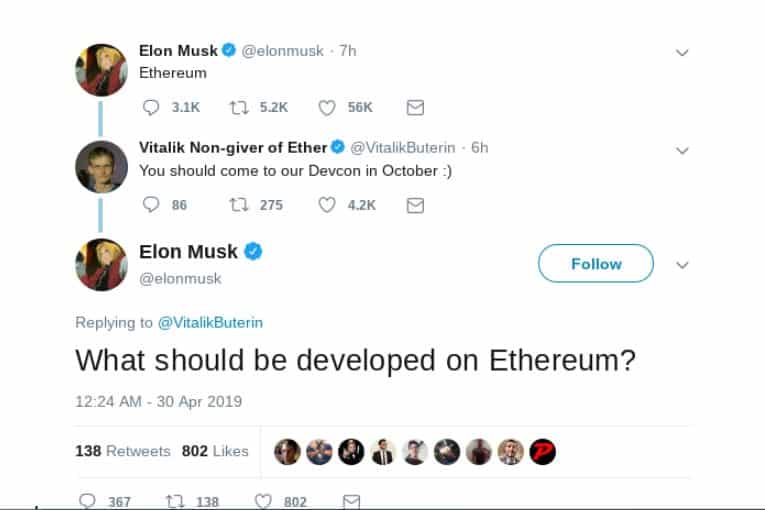 It is worth noting that the first Shiba Inu blog post that introduced the cryptocurrency in August 2020 stated that Ryoshi, the pseudonymous founder of SHIB, met a friend the previous year in Osaka, who helped in the development of the digital currency. 
More Findings Link Musk to SHIB  
Furthermore, Ryoshi has always noted that he owns zero SHIB because he is committed to giving control to the common man instead of the founders of the project. 
Ryoshi's claims of having zero SHIB correspond with Musk's comment last year when the Tesla CEO noted that he does not own Shiba Inu tokens. 

Elon also says he has "None" Shiba Inu.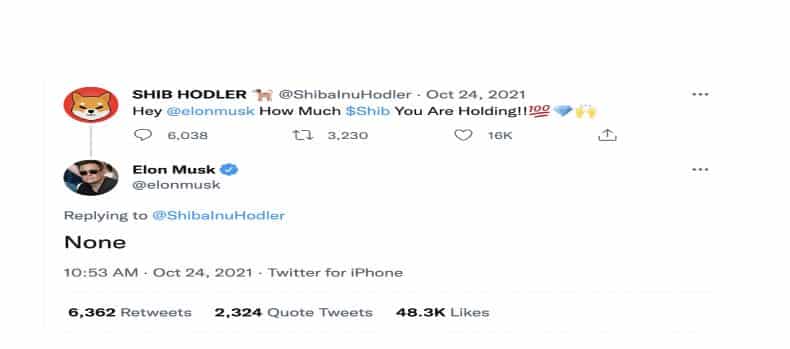 Could This Be True?
It is possible that the developments could be a mere coincidence. However, there is a possibility that there could be some truth. 
Meanwhile, Shiba Inu lead developer Shytoshi Kusama tweeted a link to the Watcher Guru article with the comment: 
"Well…that is… uh… interesting. #SHIB."
Follow Us on Twitter and Facebook.
Disclaimer: This content is informational and should not be considered financial advice. The views expressed in this article may include the author's personal opinions and do not reflect The Crypto Basic's opinion. Readers are encouraged to do thorough research before making any investment decisions. The Crypto Basic is not responsible for any financial losses.
-Advertisement-