SHIB Army has destroyed almost 287.32 million dog-themed tokens over the last 24 hours.  According to statistics, the network's burn rate has increased by 15,071%.

Shibburn.com, one of the authentic Shib Burn tracking websites, has recently reported that over the last 24 hours, a total of 287,321,056 (287.32M) SHIB has been wired to "inferno" addresses through 12 transactions and been locked up there permanently, never to use again.
In the past 24 hours, there have been a total of 287,321,056 $SHIB tokens burned and 12 transactions. Visit https://t.co/t0eRMnyZel to view the overall total of #SHIB tokens burned, circulating supply, and more. #shibarmy

— Shibburn (@shibburn) April 23, 2022
The burn rate shows a whopping 15,071% over the last day when only 1,896,594 (1.8M) SHIB tokens had been sent to dead wallets through 2 separate transactions.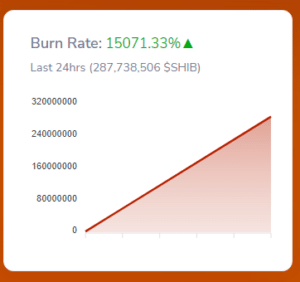 ETH SHIBA, a token supporting SHIB burn, has acclaimed the most significant share of burning. The token organized the Weekly BURN EVENT on Friday (22nd April 2022). Through this event, the team behind the newly emerged token has burned 200,026,215 (200.26M) SHIB through one significant transaction.
** SHIB BURN COMPLETE **

200,026,215 $SHIB Burnt by #ETHSHIBhttps://t.co/zS1sFnxHOs

🔥🔥🔥🔥🔥🔥🔥🔥 #SHIBARMY https://t.co/ODzPefIunW

— ETH SHIBA (@eth_shiba) April 22, 2022
However, ETH SHIBA hasn't used its wallet instead intereacted with one of the Binance Exchange wallets to perform this burn.
The etherscan.io data shows that the burn has taken place by interacting with one of the Binance Exchange wallets labeled "Binance 15" while paying the transaction fee of 0.000523964901328262 ETH ($1.55).
The token "ETH SHIBA" came into life one month ago, and so far, the ETH SHIBA has taken out over 2.2 billion SHIB from circulation forever.
Readers should note that ETH SHIBA has no official relation with the SHIB ecosystem or its team. Only SHIB, BONE, and LEASH are part of the Shiba Inu ecosystem. Therefore, investors should research before investing in such kinds of tokens.