- Advertisement -

5B Shiba Inu Burnt in 24 Hours, 15.8B Since Burn Portal launch.

"SHIB Burn Portal" is gathering massive traction since its launch on April 23, 2022. More than 15 billion Shiba Inu (SHIB) tokens have been permanently taken out of circulation over the last 72 hours with the help of a new burn portal, according to a tweet posted by one of the official and the most dedicated SHIB Growth Breed member, Archangel.
2022 proves to be the "Year of Burn" for Shiba Inu (SHIB), as the newly launched "SHIB Burn Portal" has just reached another major milestone i.e., 15 billion SHIB burned.
Overall, 5 billion SHIB tokens have been taken out of circulation forever within the last 24 hours. Yesterday TheCryptoBasic reported 10.9B shib burned since the burn portal launch, now the count stands at 15.8B.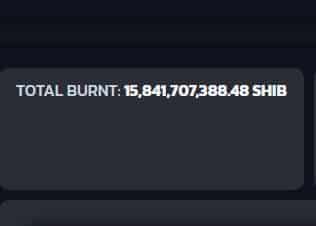 Mysterious Wallet Burning More Than 1B Shiba Inu:
The community continues to cheer up the development as one random mysterious wallet has sent 1.3 billion SHIB, worth $32,227 to the dead wallet within the last 24 hours.
Looking deep into the data provided by etherscan.io, we found that this mysterious wallet has interacted with a dead wallet twice, within less than 48 hours, and sent a total of 1,325,571,332 (1.32B) SHIB, worth $32,346 to it in two separate transactions.

The first transaction from the mysterious wallet (performed on April 24, 2022) seems to be the "testing transaction", transferring a little amount of SHIB to the dead wallet i.e., 5,000,000 (5.0M) SHIB, worth only $119. Following the "test transaction," the wallet performed the massive transaction of 1.3 billion SHIB tokens.
In doing so, the current SHIB balance for the mysterious wallet turned "Zero". This means he has sacrificed 100% of his holdings for the well-being of the SHIB Community.
SHIB Burn Portal came into being on April 23, 2022, in partnership with decentralized finance project Ryoshi's Vision (RYOSHI). The portal reportedly allows holders to earn passive income by destroying SHIB tokens i.e., the holders of the most popular dog-themed cryptocurrency will receive RYOSHI tokens in exchange for burntSHIB tokens. The development aims to make shib scarcer, which could potentially boost the token's price.