Shiba Inu enthusiasts can now officially burn their SHIB cryptocurrency and earn rewards.
Shiba Inu Official Burn Portal Finally Launches, As 10.9 Billion SHIB Burnt in Two Days.
The Shiba Inu development team has finally launched the long-anticipated SHIB burn portal, to enable members of the SHIBArmy to reduce the token's circulating supply, and ultimately boost its value.
Announcing the development in a recent Twitter post, the Shiba Inu development team said via its official Twitter channel:
"We are excited to announce the launch of the SHIB burn portal. Burn SHIB to generate passive income!"
We are excited to announce the launch of the SHIB burn portal.

Burn $SHIB to generate passive income!https://t.co/jSnPG8B3x7 pic.twitter.com/E2ZYxEyP16

— Shib (@Shibtoken) April 23, 2022
SHIB Burners to be Rewarded
As part of efforts to entice Shiba Inu holders into joining the burn program, the team also disclosed that it will reward members of the SHIB community who join the program with some sort of passive income.
According to the announcement, a total of 0.49% of all Ryoshi Vision (RYOSHI) transactions will be distributed to participants of the burn program.
Furthermore, any project can use the burn smart contract to create a burn pool that will also reward SHIB burners.
It is worth noting that since the burn program was announced, over 10.9 billion SHIB have been burnt via the newly launched burn portal.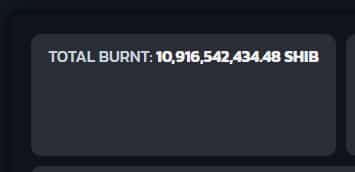 While the number of SHIB burnt so far via the initiative may not be as encouraging as many would expect, Queenie, a member of the Shiba Inu development team disclosed that over 100  trillion SHIB burns are achievable yearly.
Reason for SHIB Burn Portal
Explaining why it decided to launch the SHIB burn portal, the project team noted that it had received numerous calls from the community to create a "systemic method in which scarcity can increase while pushing the potential to grow the community's wealth in their investment."
The team added that it had decided to launch a burn initiative that would reduce the token's total supply, thus increasing value in the near future.
Notably, the recently launched burn exercise for the Shiba Inu token will be similar to other burn programs that have gone live for the dog-themed cryptocurrency, including the burn parties held by Bigger Entertainment.
The burn portal, which was developed in collaboration with "the creators of the RYOSHI vision," is hosted on a recently-launched domain.
Interested users can burn any amount of SHIB that they deem fit, and the token will be immediately sent to a dead wallet, which cannot be accessed or retrieved, the Shiba Inu team noted.