- Advertisement -

Why Retail Investors Are Still Shying Away From Ethereum

The ETH market is turning red, and things aren't as rosy as they're used to be. However, the crypto market is a dynamic space, and market movements can change direction at a moment's notice. As for the troubles currently beveling Ethereum's price, investor flight appears to take the top count.
According to a recent research chart created by Glassnode and released by one crypto pundit, retail investors haven't been keen on rejoining the ETH bandwagon lately – especially considering the current price standings. This notion is demonstrated by the noticeable decrease in the number of new ETH addresses going online on the Ethereum network. As of May 7th, the number of unique addresses on the network totaled a measly 77,072. And that's not all.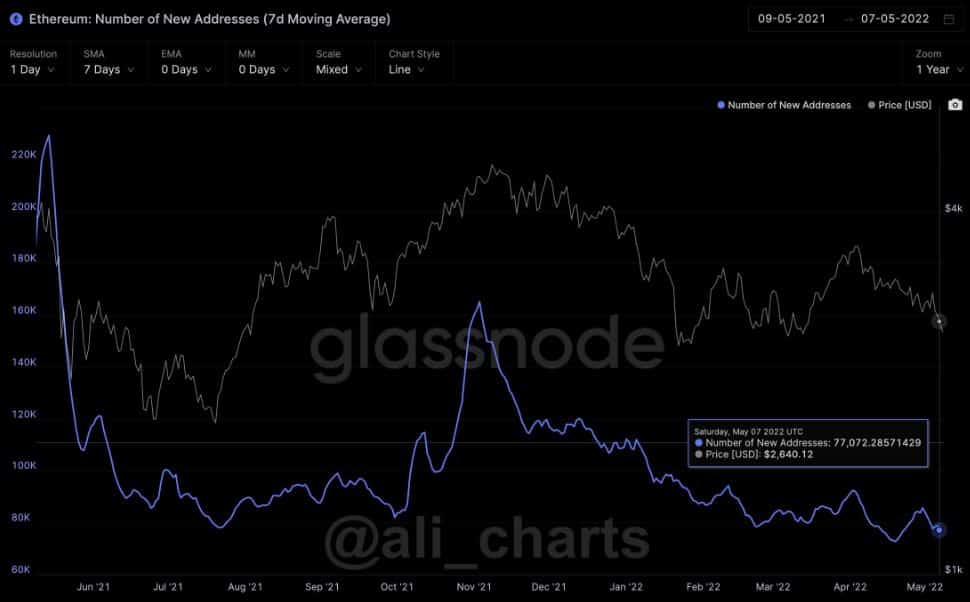 $825 Million Moved In Two Weeks
From a more critical standpoint, the events leading up to this point may have transpired over the last two weeks. Available data from Santiment shows that about 330,000 ETH with an estimated total value of $825 million was moved from possible cold storage to exchange wallets during this period. That's a pretty massive movement for the second largest coin in the market.
Perhaps this movement's investor apathy stems from the assumption that this much ETH is being moved into exchanges to be sold. As is always the case with cryptos, a dumping event results in a hard price crash. This explains why the ETH market currently appears to be entering a state of FUD – unless something happens.
#Ethereum | Roughly 330,000 $ETH have been deposited in known #crypto exchange wallets over the past two weeks, worth approximately $825 million. pic.twitter.com/EWNxInBDV4

— Ali Martinez (@ali_charts) May 8, 2022
ETH Retesting Important Support Point
While there may be some kind of fear among retail investors, ETH doesn't seem to be suffering price-wise. Current data from IntoTheBlock reveals that the crypto is still within its strongest support range running between $2,380 and $2,460, with upwards of 683,000 addresses containing about 13.64M ETH coins.
The most important support for #Ethereum sits between $2,380 and $2,460 where over 683,000 addresses hold more than 13.64 million $ETH.

A decisive breach of this key support may encourage traders to exit their positions, which can result in a downswing to $1,700 for #ETH. pic.twitter.com/JRn0tD5vqI

— Ali Martinez (@ali_charts) May 8, 2022
It's important to note that the crypto market hasn't been affected by a significant event that usually moved the entire system. There have been other price crashes and rebounds in the past, which may mean that the current red zone surrounding ETH may not necessarily be disastrous. However, things would quickly spiral south if the support level were breached decisively. That could send ETH back to the $1,700 price range. The opposite could happen and give ETH a notable price boost. Either way, we can only wait and see the market forces at work.