- Advertisement -

CZ Said This In 2019, But Newbies Are Still Shocked By Market Downturns.

Bitcoin market downturns have been routine since the coin came into existence, but some people don't learn this.
The last few months have been a hard time for the crypto market, including Bitcoin. The top coin has lost much of its value as compared to where it was in late 2021. A lot of analysts and traders have come out to opine that the market is entering a period of "crypto winter" with extreme bearish sentiments.
The biggest downturn happened about a week ago, and Bitcoin even dropped below the $20k support over the weekend.
Now, this seems to rattle some new investors who are now worried that their investments will become nothing, despite people like Binance CEO having talked about it three whole years ago and are repeating the same words again.
In 2019, during the previous crypto winter, CZ sent out a tweet to this effect. Some, like Ki Young Ju, an analyst and CEO of leading analytic firm Crypto Quant took it seriously. Others didn't.
It's Still Early
According to CZ, the Bitcoin market and the blockchain industry are still in their early stages. Note that he said this during the crypto winter of 2019, when BTC had dropped to around $3k. Ki Young Ju is referring to that sentiment when BTC is around $20k.
Also, note that back in 2019, the market had already crashed, just as it has already crashed these days. Both $3k and the current $20k are considering meager prices. At this time, Bitcoin is trading at around $20.9k, up from the lows of $18k over the weekend.
Ju highlighted the wording of Binance CZ when BTC was around $3K in 2019. In 2019 CZ hinted that BTC is at the bottom and told the community that we are still very early.
CZ in 2019: "That's exactly what I thought back in 2013, "damn, I am too late. I wish I started early like those other guys." and I will say the same thing I heard back then. We are still early, the beginning of the beginning."
I saw this tweet back in Feb 2019 when #Bitcoin bottomed at $3k.

Now, he's repeating the same advice for newbies. https://t.co/zN1g15MJya

— Ki Young Ju (@ki_young_ju) June 21, 2022
Now crypto quant CEO is stressing that as BTC prices are hovering around $20K, he is hearing the same advice from Binznce CZ, but newbies do not understand not acting on time.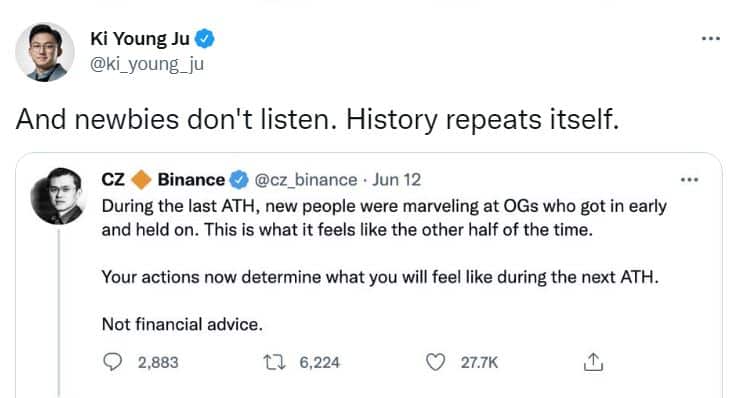 Image source: Twitter
Is History Repeating?
Apparently, history has a way of repeating itself, and newbies have been the unluckiest victims. However, they're not victims because of any other factors other than fear. This is clear from the current fear spreading among newbies and making them give up their stash. This has always happened to the "weak hands" during downturns.
It's a fact that brutal downturns come with heavy FUD, and some newbies who haven't quite understood the market dynamics get into a panic mode thinking the crypto market is going up in flames and ending forever. They sell in haste and make losses. Those who manage to hold reap profits when the bull run finally starts.