- Advertisement -

The Governance Token of ShibaSwap Ecosystem Bone ShibaSwap (BONE) Surpasses 50,000+ Holders.
Bone ShibaSwap, the governance token of the ShibaSwap Ecosystem, now has more than 50,000 holders.
The long-term interest of investors in the Shiba Inu Ecosystem is growing daily. Shiba Inu supporters are celebrating a major milestone as the number of BONE holders reached a new all-time high, approaching the 50K round mark.
Etherscan.io data reports that holders of the BONE token have surpassed 50,000 unique addresses. The current holders' count stands at 50,105.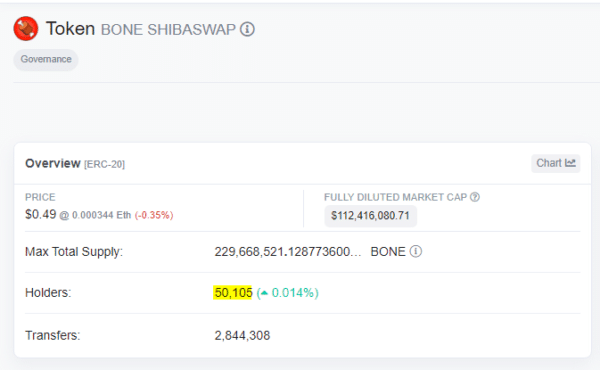 The demand for the governance token of ShibaSwap Ecosystem, BONE, increases as Unification XFUND, the developer of Shibarium – Layer 2 Solution, brings the potential launch of Shibarium near. The blockchain solution provider company confirmed via an official blog post that the Shibarium Public Beta TestNet is planned for deployment in Q3.
BONE would be used as a native "GAS Token" on Shibarium, meaning every SHIB holder would need BONE to perform a transaction on Shibarium. The token currently serves as the governance token of the ShibaSwap Ecosystem, allowing the Shiba Inu Community to vote on upcoming proposals.
On the other hand, the Shiba Inu Community voted in favor of halting the minting process for BONE at 230 million coins to save the remaining 20 million for validators in the crypto market. However, the team decided not to halt BONE minting but instead adjusted the current minting rate to just 1 BPB (BONE Per Block) to avoid potential over-minting of the token.
As reported by The Crypto Basic, the Shiba Inu team also intends to venture a brand-new reward token, "TREAT," which will replace BONE as ShibaSwap Rewards.
Besides all this, most of the Centralized Exchanges (CEXs) and leading payment gateways are adding BONE support.  In July, Singapore-based exchange CoinTiger, Canada-based exchange Biconomy Global, Top Estonian Exchange Switchere, and Canada-based leading Payment Gateway FCF Pay listed BONE on their platforms.