- Advertisement -

XRP makes gains despite all-around crypto losses as interest continues to spike.
In a tweet on Friday, on-chain analytics firm Santiment Feed highlighted that XRP is decoupling from the rest of the crypto market, reclaiming the $0.52 price point as the number of new addresses created on Thursday tapped three-month highs at 2,773.
It is the highest 24-hour growth for the network since July 2.
"XRP Network has jumped back over $0.52 on a mild decoupling from the rest of the crypto back today," tweeted Santiment. "Yesterday's network growth was the highest in three months, with over 2,773 XRP new addresses created."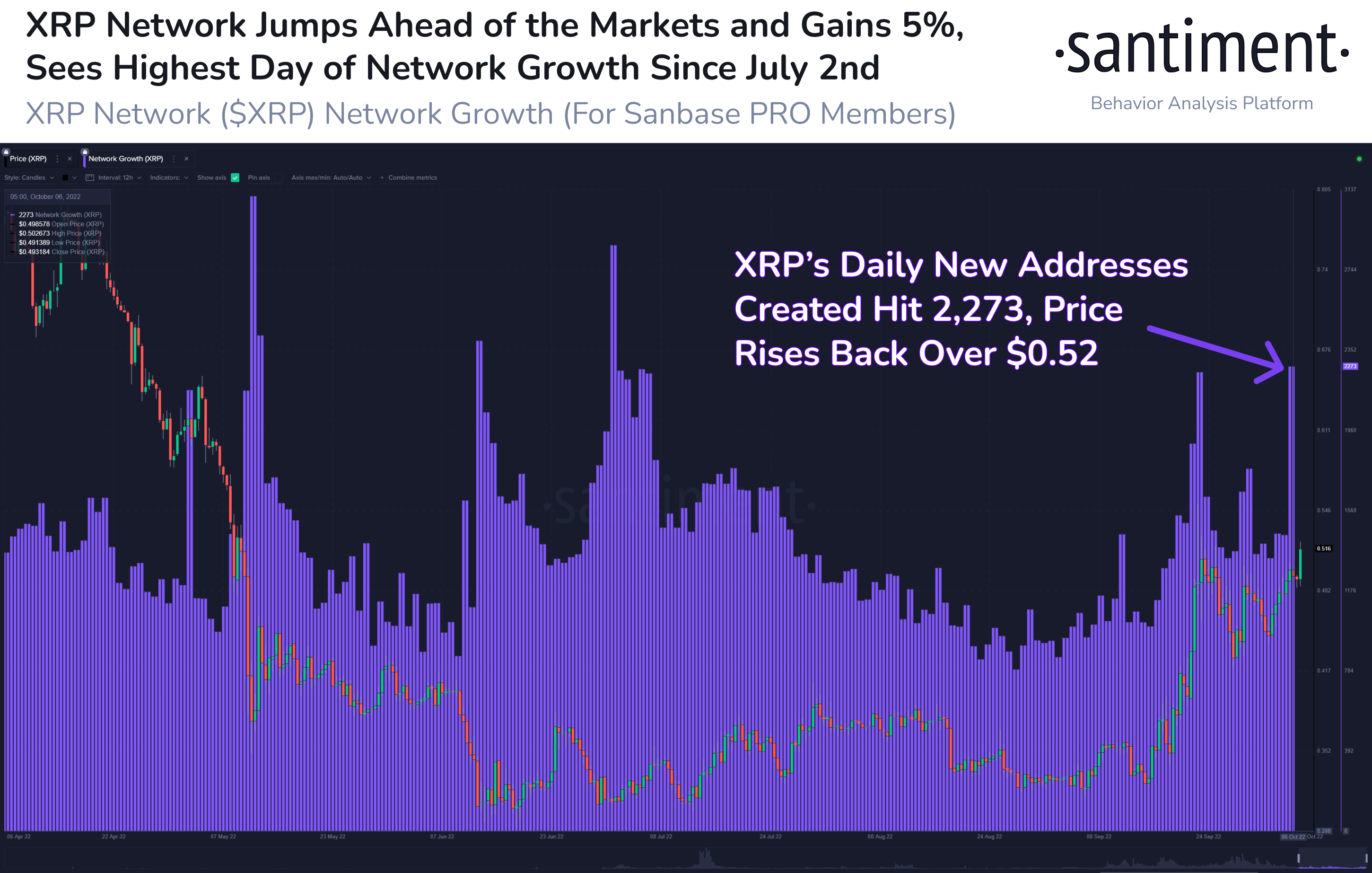 It bears mentioning that XRP is the only asset with over 1% gains, in the last 24 hours, among the top 20 crypto assets by market cap, as assets like Bitcoin and Ethereum continue to bleed. It is currently up 6.74% in the last 24 hours and 10.26% in the last seven days, trading at the $0.5222 price point.
Notably, the asset has recently continued to see increased interest from investors. As reported by The Crypto Basic at the beginning of the month, XRP addresses have now surpassed 4 million.
Moreover, XRP has also gained the support of popular crypto entrepreneur and former US congressional candidate David Gokhstein. According to the Gokhstein media founder, "XRP is probably the only legitimate asset during [doing] well today."
As reported by The Crypto Basic, the total number of XRP wallets surpassed 4 million.
It is worth noting that sentiment around the asset is becoming increasingly positive as XRP supporters envision a Ripple victory in the legal battle with the SEC.