- Advertisement -

Tron Becomes the Official Issuer of Dominica Coin (DMC), As TRX, USDD, and Others Become the Country's Official Legal Tender.
Tron has been appointed as official Dominica's national blockchain infrastructure.
According to an announcement today, Tron has also been selected as the country's official partner to develop and issue Dominica Coin (DMC), the nation's fan token. 
It is noteworthy that the partnership is described as the highest level of cooperation between a blockchain platform and a sovereign state. Following Tron's recent partnership with Dominica, the public blockchain project is poised to launch a series of applications based on emerging technology for other sovereign states. 
TRX, JST, USDD, Become Legal Tender in Dominica 
Celebrating the milestone on Twitter, Justin Sun, the founder of the Tron project, said the government of Dominica also granted statutory status to all Tron ecosystem tokens, including TRX, JST, USDD, and TUSD, among others.
Cryptocurrencies can be used as legal tender to exchange goods and services within the sovereign state.
"It is official! All TRON cryptos, including TRX, BTT, JST, NFT, USDD, USDT, and TUSD are granted statutory status as an authorized digital currency and medium of exchange in the commonwealth of Dominica, effective on October 7th, 2022," Sun said. 
According to the Dominica government's official document, Dominica may accept Tron for Public services, including tax payments. The government may accept Tron as payment for goods and services. The exchange rate between Tron and EC$ would be determined by the free market.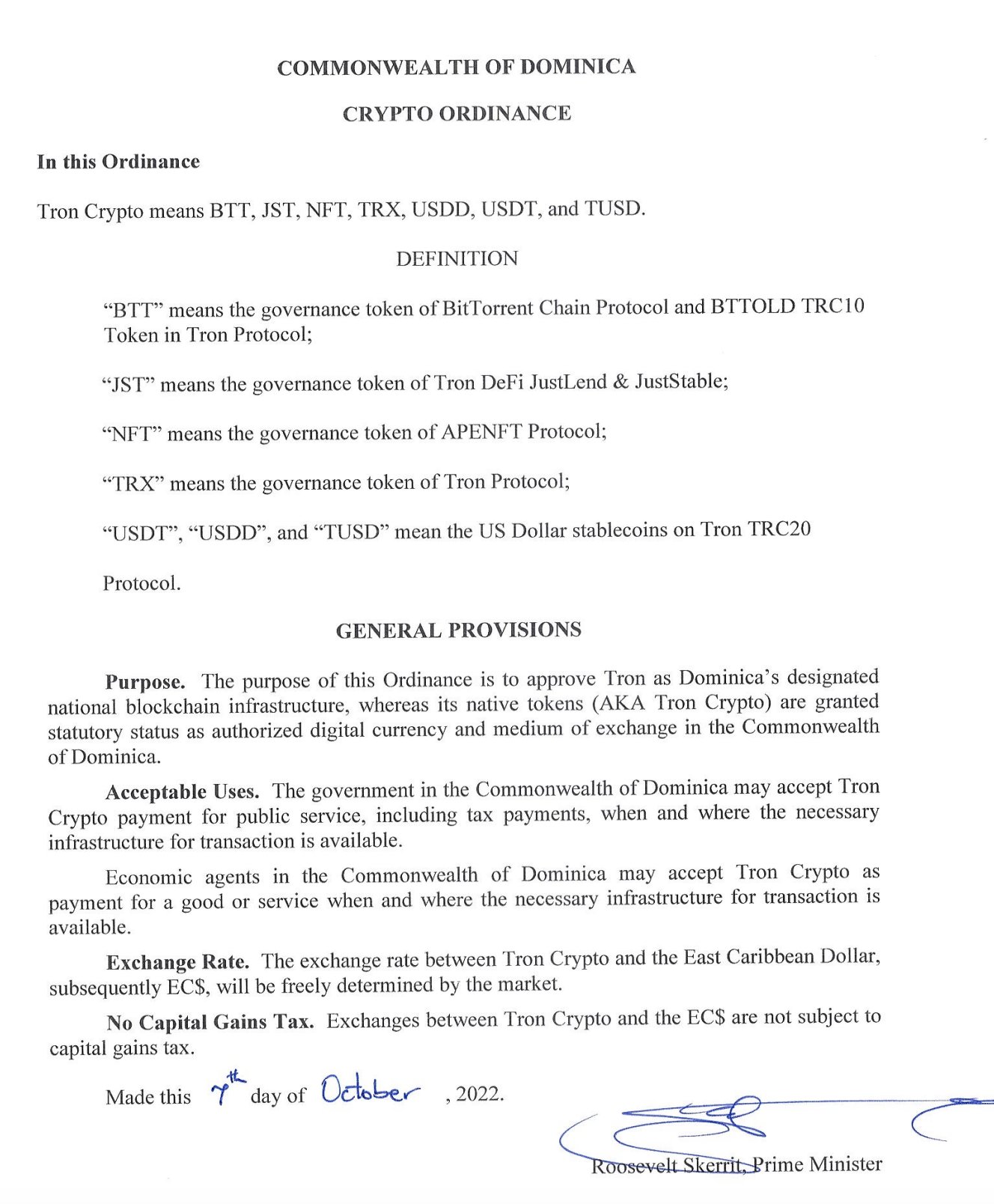 Dominica's Plan to Boost Its Economic Activities
The partnership between Tron and Dominica has been in the works for months. A popular news outlet in the Caribbean WIC NEWS, noted that Tron was selected as Dominica's official blockchain partner immediately after the country passed its Virtual Asset Business Act in May 2022.
The development is part of efforts by the government of Dominica to bolster the nation's economic activities. 
Commenting on the development, Roosevelt Skerrit, Prime Minister of Dominica, said: 
"The open and cost-effective nature of the TRON blockchain infrastructure will play a vital role to better integrate Small Island Developing States like Dominica into the global economy in the future." 
Dominica is an island in the Caribbean. The country's major economic focus is agriculture and tourism, and its official currency is the Eastern Caribbean Dollar (ECB), a fiat pegged to the U.S. dollar. 
As reported, Dominica also attended a Bitcoin conference hosted by El Salvador. 
Widespread Adoption of Blockchain in the Caribbean
The Caribbean is slowly becoming a hub for cryptocurrencies and blockchain technology.  
With a total of 25 sovereign countries and 14 regions, nations in the Caribbean are heavily reliant on trade. However, they are faced with the problem of insufficient foreign exchange reserves and a lack of adequate financial infrastructure to process these transactions.  
Through the blockchain tech, selected Caribbean countries like Puerto Rico, Jamaica, and others can navigate these challenges.