- Advertisement -

Here Are Top Unique Accounts On Cardano dApps.
Here is the list of the top 10 Cardano dApps with the most unique accounts.
Cardano-based decentralized applications (dApps) have received a lot of engagement from members of the cryptocurrency community in recent times. This can be seen in the number of unique accounts created on these platforms.
According to an infographic by Cardano Daily, a media outlet that covers Cardano-related developments, the number of unique accounts on Cardano-based decentralized applications has grown massively.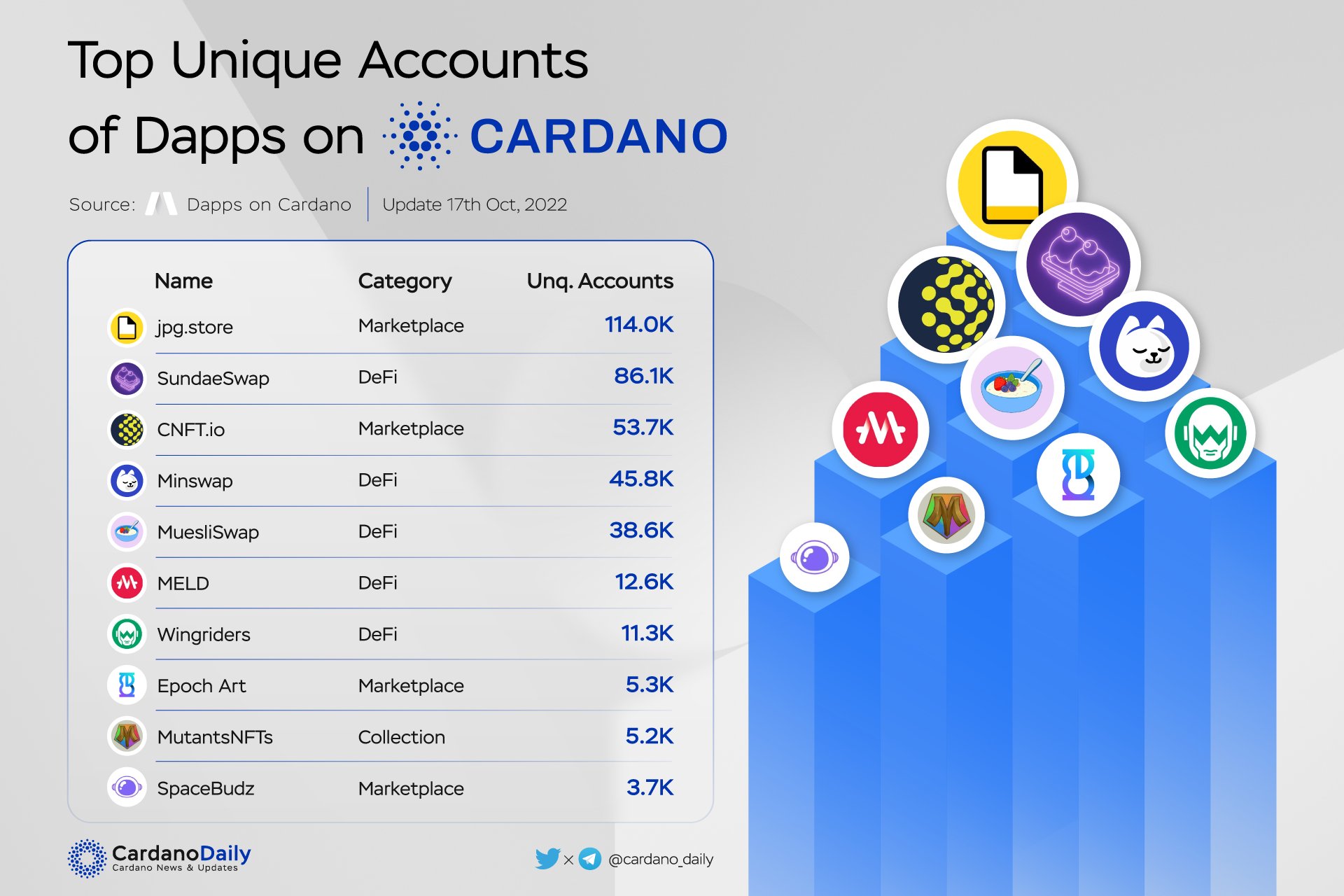 Per the data, JPG Store, a non-fungible token marketplace built on the Cardano blockchain, is ranked as the top Cardano dApp with the most unique accounts. JPG Store has a total of 114,000 unique accounts, according to the data.
Leading Cardano-based decentralized exchange SundaeSwap is the second-largest Cardano dApp with the most unique accounts. SundaeSwap's unique accounts currently sit at 86,100.
Cardano's NFT marketplace, CNFT.io, sits in third place, recording 53,700 unique accounts. Furthermore, Cardano's decentralized finance applications, such as Minswap (45.8K), Muesliswap (38.6K), MELD (12.6K), and WingRiders (11.3K), were ranked as the fourth, fifth, sixth, and seventh top Cardano dApps with the most unique accounts, respectively.
Another NFT marketplace built on Cardano called Epoch Art has 5,300 unique accounts and currently sits in the eighth position. Mutants NFT (5.2K) and SpaceBuds (3.7K) were ranked ninth and 10th top Cardano decentralized applications in unique accounts. In total, these Dapps possess 376,300 unique accounts.