Peter Brandt Says Dogecoin Breakout From Bear Market Does Not Mean Start Of Bull Market.
Peter Brandt Says The Bull Market May Have Not Started For Dogecoin Despite The Breakout From The Bear Market.
Veteran trader Peter Brandt asserted in a tweet that it is not certain that Dogecoin has kicked off a new bull run despite its break of bear market structure. Brandt says new traders are quick to make guesses about the end of bears and the start of bulls, but most often, such assumptions are wrong.
"A common mistake made by novice and wanna-be traders is assuming that an end to a bear phase of a market is automatically a signal that a bull market has begun. This assumption is most often wrong."
The statements come nearly 2 hours after Brandt shared his price chart highlighting that DOGE had broken out of a bear channel marking a break out of a bear market it entered following a run-up to $0.74 in May last year.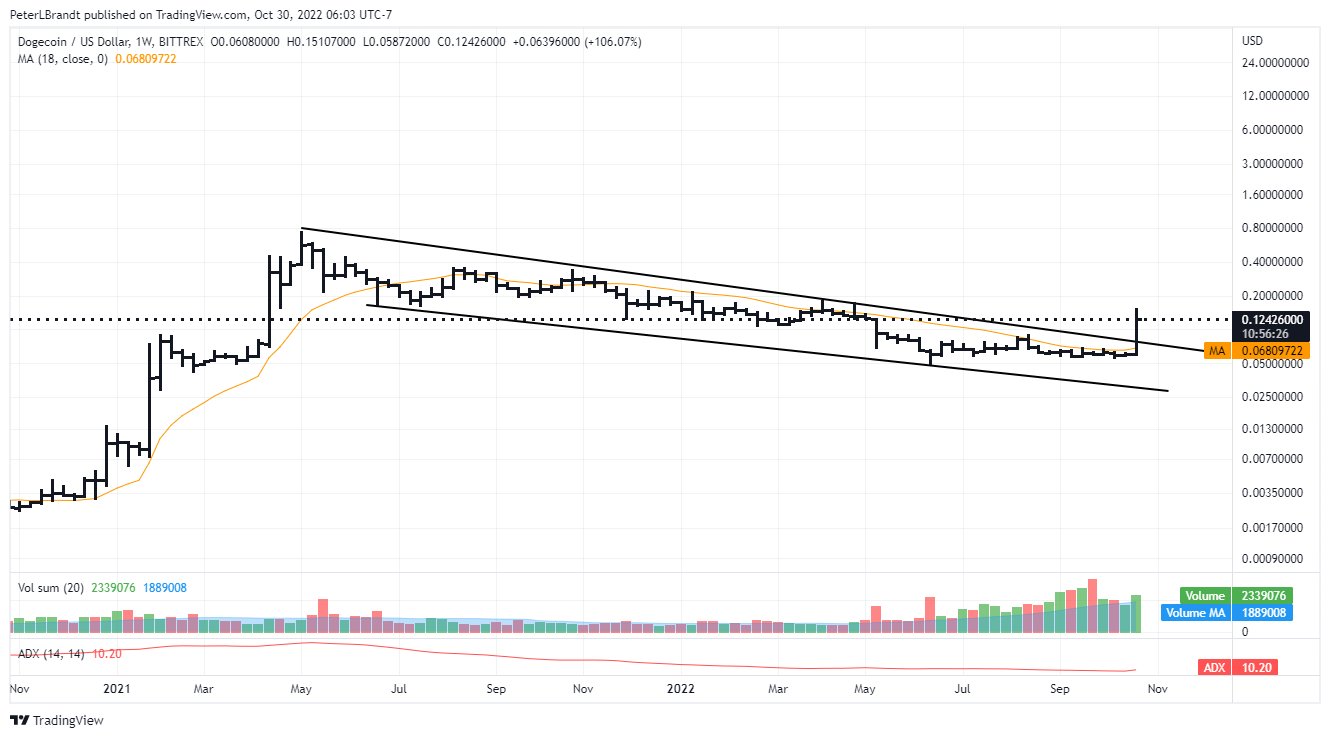 Despite Brandt's warnings, several users said they would look for buying opportunities in the market. Notably, in response to a query about what will be a bull market marker, one user volunteered that the market had to form higher highs and higher lows on higher time frames.
It bears mentioning that Brandt, who can be described as a Bitcoin moderate, is very skeptical about altcoins. In July, the analyst called out LUNA, DOGE, and XRP as scams. In May, as reported by The Crypto Basic, Brandt asserted that Bitcoin was the only trustworthy crypto asset following the Terra ecosystem collapse.
Despite his skepticism, Brandt remains a widely respected analyst with a knack for accurately predicting the price moves of crypto assets. Notably, the analyst arguably predicted the start of the prolonged bear market for Dogecoin, sharing bearish chart patterns for the asset from June through July.
It is worth noting that DOGE has enjoyed a massive rally over the weekend, riding on the wave of Elon Musk's Twitter takeover. It is up 99% in the last seven days, trading at $0.1181.
As The Crypto Basic reported, DOGE's trading volume has also surged, and billions in market cap gains have overtaken Cardano and Solana to become the 8th largest crypto by market cap.
Follow Us on Twitter and Facebook.
Disclaimer: This content is informational and should not be considered financial advice. The views expressed in this article may include the author's personal opinions and do not reflect The Crypto Basic's opinion. Readers are encouraged to do thorough research before making any investment decisions. The Crypto Basic is not responsible for any financial losses.
-Advertisement-