Over 53.08 Million Shiba Inu (SHIB) has been sent to the "inferno" addresses in the past 24 hours, 51.74 Million in a single transaction.

Shibburn.com recently reported that Shiba Inu Community has cut circulating supply by another 53,087,618 (53.08M) canine-themed tokens through two separate transactions in the past 24 hours.
In the past 24 hours, there have been a total of 53,087,618 $SHIB tokens burned and 2 transactions. Visit https://t.co/t0eRMnhnPL to view the overall total of #SHIB tokens burned, circulating supply, and more. #shibarmy

— Shibburn (@shibburn) November 16, 2022
The mysterious wallet is recognized as the Top SHIB Burner of the Day as it permanently removed a staggering 51,743,223 (51.74M) SHIB from circulation in one significant transaction.
🔥 51,743,223 $SHIB -> transferred to dead wallet. https://t.co/pNxI0Q7Ubf

— Shibburn (@shibburn) November 15, 2022
This significant burn from the unknown wallet caused the Shiba Inu Burn rate to soar by 105.82% over the past 24 hours.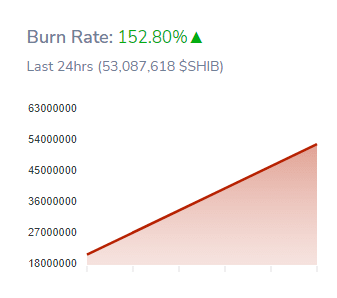 EtherScan Data
As per Etherscan.io, the unknown wallet executed its first-ever SHIB Burn transaction on November 11th to incinerate 10,000,000 (10M) SHIB. On the same date, the wallet sent another 1,999,999 (1.99M) SHIB to the dead wallet in a separate transaction. And 10 hours ago, the wallet burnt 51,743,223 (51.74M) coins.
The unknown wallet destroyed 63,743,223 (63.74M) SHIB through 3 separate burn transactions within the past four days.

On the other hand, the largest Shiba Inu holders continue to splurge millions of dollars to fill up their SHIB bags. As reported earlier by TheCryptoBasic, the 7th biggest Shiba Inu Whale splurged a whopping $6.11 million to accumulate 655.75 Billion SHIB in three separate transactions.