Terra Classic (LUNC) burns have surpassed 28 billion.

The number of LUNC tokens burned in the past few days has skyrocketed. As of November 12, 27.1B LUNC tokens were burned. In just six days, nearly 1 billion LUNC tokens have been sent to the official Terra Classic dead wallet, bringing the total number to 28.01 billion. The development was shared by @LunaBurn13, an unofficial community-driven Twitter account that tracks all LUNC burn transactions.
Aside from the number of tokens incinerated, the Terra Classic community members have also staked a whopping amount of 880.4B LUNC. According to the Twitter handle, LUNC staked assets account for 12.79% of the token's total supply.
🔥Total burned $Lunc: 28.01b🔥

T/S: 6,879,825,893,071
C/S: 5,999,383,147,121
M/C: $1,041,792,883
Vol24h: $96,880,162$Lunc Staking

bonded: 880,442,745,950
unbonded: 39,144,150,006
% t/s: 12.79% 🔐#Lunc #LUNCcommunity #luncburn #lunaclassic

— LUNC Burn  (@LunaBurn_13) November 18, 2022
LUNC Circulating Supply Falls Below 6T
Interestingly, the LUNC revival campaign has yielded positive results in reducing the number of tokens in circulation. According to CoinMarketCap data, LUNC's circulating supply is currently below 6 trillion. At the time of writing, LUNC has a circulating supply of 5.997 trillion (5,997B).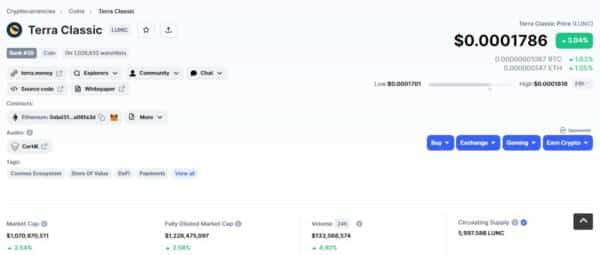 Terra Classic Burn
Most of the LUNC tokens incinerated from the 0.2% tax burn deducted from all on-chain transactions. Aside from the 0.2% tax burn deductions, other entities like Binance, LUNCDAO, and others have contributed significantly to the ongoing LUNC burn campaign.
Binance remains a major player that has burnt the most LUNC tokens. Binance LUNC burns account for roughly 13.7B of the total 28.01B LUNC incinerated. The world's largest cryptocurrency exchange burned the tokens via the fees obtained from LUNC trading activities on the platform.
LUNC Burns to Spike
The number of LUNC burned is expected to skyrocket in the coming weeks. LUNC trading volume has increased recently after the community implemented the 0.2% tax burn. As reported earlier this week, LUNC ranked among the top 10 assets with the highest trading volume in both Binance and KuCoin.
The asset's trading volume surge on Binance suggests that the next batch of the exchange's LUNC burn will spike tremendously. Recall that after Binance completed its fifth LUNC burn on October 31, 2022, the trading platform changed its LUNC incineration schedule weekly to monthly. Based on this decision, Binance's next LUNC burn report is scheduled for December 2, 2022.
Yesterday, Terra Classic developer Rex Harrison AKA Rexzy, revealed that a new casino supporting LUNC burns would soon launch on the network. The speculation was corroborated by TerraCVita, an independent Terra Classic development group, which noted that the casino could burn up to 24B LUNC in six months.
Furthermore, a Terra Classic decentralized exchange that promised to be a LUNC furnace is currently being developed, which will help to boost burns.