Terra Classic Casino Launch Highlights Differences Among Developer Groups.

A casino is set to launch on the Terra Classic network, but conflicting claims and accusations try to split the community.
Rex Harrison, AKA Rexzy, a senior member of the independent Terra Classic development group TerraCVita in a tweet on Saturday, confirmed the launch of a casino on the network.
In the tweet, Rexzy unveiled the casino and OWLDAO, the 7th largest decentralized app in crypto, as the partner behind the casino.
Unsurprisingly, the community excitedly received the new development, but this was before @terra_casino, AKA TerraCasino.Money accused Rexzy and the TerraCVita of stealing their launch and vendor partners.
The group claims to have sought help from Rexzy during the review process with OWLDAO. As implied, they allege that they reached an agreement with Rexzy to use his influence to ensure cooperation with OWLDAO, but Rexzy went behind their backs to steal the partnership.
The long thread by TerraCasino.Money attracted responses from key Terra Rebel members, seemingly pitting the Terra Rebels against the TerraCVita. In response to the thread, Tobias Andersen, AKA Zaradar, mentioned Rexzy in a tweet with the phrase, "Not Cool." It also got a retweet from Vegas.
Not cool @RexYellerBelly https://t.co/YjbPXFgHyX

— Tobias Andersen (@ZaradarTR) November 20, 2022
Rexyz on the other side said that Zaradar made an opinion without knowing the facts.
Thank you for waiting for the facts before casting an opinion.https://t.co/Bqx4MB85vc

— Rexyz (@RexYellerBelly) November 20, 2022
However, several other users raised concerns about the lack of proof from TerraCasino.Money to back its claims.
OWLDAO Debunks The Allegations 
In response to the claims by TerraCasino.Money, OWLDAO released a medium blog to clarify the situation.
Per their statement, OWLDAO tries as much as possible to work only with known community teams and communities with its token and a robust ecosystem to avoid working with rug pulls. To this end, OWLDAO revealed that LuncWin had falsely claimed to be a key member of TerraCVita with close ties to influential community members like Vegas and LUNC DAO.
However, per the chat receipts shared, LuncWin failed to prove this as he could not get an endorsement from these community members. Furthermore, he raised red flags by hinting at issuing a new token and NFTs, all while asserting that he spoke for the Terra Classic community. 
Notably, OWLDAO later discovered that LuncWin had been promoting a demo of the OWLDAO casino as his project to key community members to get their support to pass the review process. They confirmed this after finally establishing contact with Rexzy.
"I have certainly not stolen LUNCWINS idea for this casino," Rexzy asserted in a Discord chat in response to the allegations. "It was simply not there idea to steal, and they never had a relationship with OWLDAO. However, the indepth truth is that LUNCWIN simply could not pass the requirements of the master casino provider who is OWLDAO."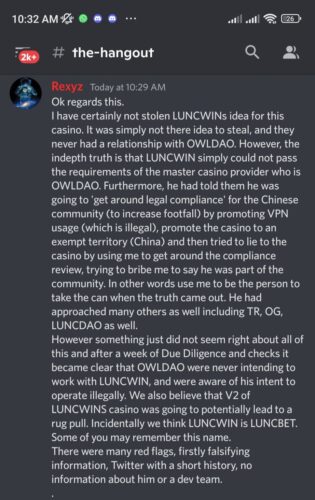 Both TerraCasino.Money and  LuncWin continue to dispute this but have failed to provide evidence to support their claims.
LUNC DAO had also confirmed that they have no relationship with LuncWin despite its claims otherwise in communication with OWLDAO.
In addition, contrary to claims from TerraCasino.Money,  OWLDAO reveals that it is licensed in Curacao.
Classy Sues For Unity 
In light of recent happenings, Classy, community influencer, and network validator, has urged the Terra Classic community to work together again as it once did, united by a common goal.
"Can we put aside our differences & work as we did before?" Classy urged in a tweet today. "What we've done is incredible thus far. Let's keep it alive."
The Casino Will Burn LUNC 
Terracasino.io, despite the controversy surrounding it, is set to launch before December 1, per the medium blog post.
In addition, it promises to burn 0.2% of its betting volume. 
As reported by The Crypto Basic, Rexzy had asserted that the casino could burn 26 billion Terra Luna Classic (LUNC) in 6 months.