Litecoin (LTC) has successfully surpassed Shiba Inu (SHIB) in market capitalization shortly after overtaking Solana.
Amid the coldest period of the prevalent Crypto Winter, Litecoin (LTC) has seized an opportunity to overtake a few assets on the list of top cryptocurrencies by market capitalization, with a recent goal to exceed SHIB's valuation shortly after overtaking SOL. As of press time, its goal has been achieved, as it now sits above SHIB.
The official Litecoin Twitter handle highlighted the asset's silent yet significant moves in the market that have so far gone widely unnoticed. The handle depicted Litecoin's progress through a popular meme portraying a personification of death on a mission to conquer several entities.
— Litecoin (@litecoin) November 22, 2022
According to Litecoin's personalized version of the meme, the asset represents the grim reaper, as it has so far surpassed other assets such as Wrapped BTC (WBTC), Uniswap (UNI), and, most recently, Solana (SOL). The asset now has its eyes set on SHIB.
Litecoin's progress to the top 15 cryptocurrencies list by market cap has been complemented by the asset's promising performance and the underperformance of other crypto assets. SOL, in particular, has crashed by over 60% since November 8.
Solana's massive dip was majorly influenced by its connection with Alameda Research which has a stake in an SOL segment. The asset lost $8B in market capitalization amidst the FTX saga, giving Litecoin, which has been performing quite well, an opportunity to overtake it.
Despite the prevalent bear market, Litecoin has gained by 8.54% in the past hour, making it one of the highest-gaining mainstream assets within that time frame. With a gain of 11.6% in the past 24 hours, LTC positions itself as the mainstream cryptocurrency with the biggest gain in the past day.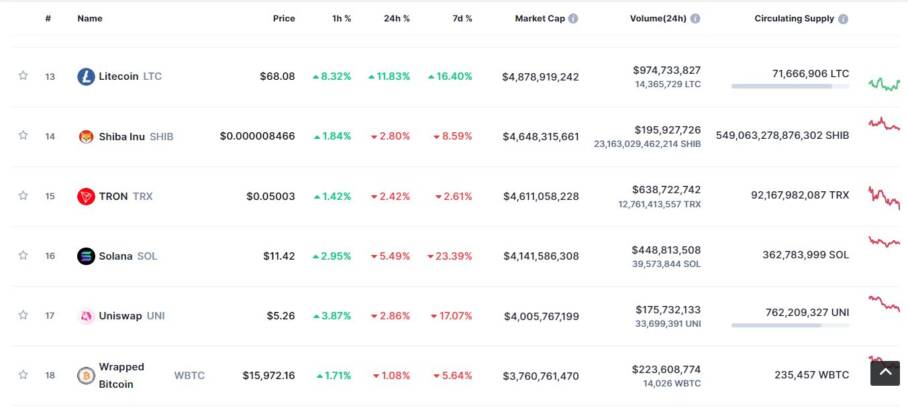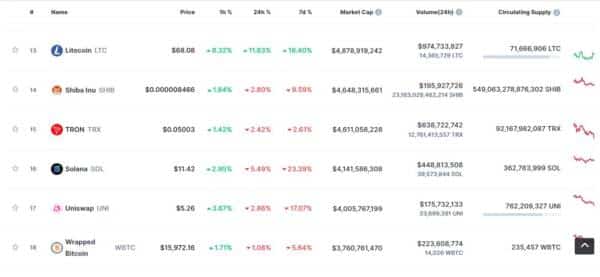 Following a surge in its market capitalization, LTC just recently overtook SHIB on the list of largest assets by market cap, attaining a valuation of $4.87B. SHIB, on the other hand, has a market cap of $4.65B as of press time. LTC now sits in the 13th position, with SHIB being relegated to 14th.
From 11 AM to 2 PM today, LTC surged from a value of $61.66 to its current price of $68.16, marking a 10% price increase in just 3 hours and a corresponding surge in its market capitalization. The asset has also increased by 16.46% in the past seven days despite the panic dumped into the markets by the ongoing FTX saga.
Follow Us on Twitter and Facebook.
Disclaimer: This content is informational and should not be considered financial advice. The views expressed in this article may include the author's personal opinions and do not reflect The Crypto Basic's opinion. Readers are encouraged to do thorough research before making any investment decisions. The Crypto Basic is not responsible for any financial losses.
-Advertisement-