Over 134.95 Million Shiba Inu burned in the past 24 hours, 127.82 Million in a single transaction. SHIB Burn rate soars by 1069%.
The first-ever dedicated SHIB Burn Project, Shibburn.com, recently reported that it has moved out a staggering 127,821,443 (127.82M) SHIB from circulation forever in a single transaction.
🔥🔥 127,821,443 $SHIB -> transferred to dead wallet. https://t.co/xikHv9FmnM

— Shibburn (@shibburn) November 22, 2022
In a separate tweet, Shibburn.com stated that they'd burn further SHIB once they received payments from Shibburn Radio ads and Super Followers. This massive burn caused Shiba Inu's burn rate to skyrocket by 1069.23% over the last day.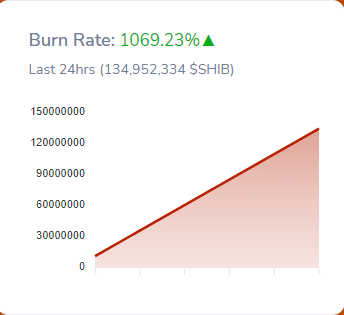 Overall, the Community destroyed a total of 134.95 Million SHIB through 10 separate transactions in the past 24 hours, Shibburn.com reports.
In the past 24 hours, there have been a total of 134,952,334 $SHIB tokens burned and 10 transactions. Visit https://t.co/t0eRMnhnPL to view the overall total of #SHIB tokens burned, circulating supply, and more. #shibarmy

— Shibburn (@shibburn) November 23, 2022
Shibburn.com has been committed to reducing Shiba Inu's gigantic circulating supply since June 2021. The SHIB Burn Project has built three revenue streams, including Shibburn.com, Shibburn Radio, and Twitter Super Followers, and dedicated 40% of its earnings to burn Shiba Inu.
As per data provided by Shibburn.com, a mind-boggling 410,382,801,110,109 (410.38T) SHIB has been burnt till now from the initial supply of 1 quadrillion. As of writing, the total supply of SHIB stands at 589,617,198,889,890 (589.61T), whereas the current circulating supply stands at 562,398,375,099,183 (562.39T) SHIB with 27,218,823,790,707 (27.21T) SHIB staked onto ShibaSwap.
Follow Us on Twitter and Facebook.
Disclaimer: This content is informational and should not be considered financial advice. The views expressed in this article may include the author's personal opinions and do not reflect The Crypto Basic's opinion. Readers are encouraged to do thorough research before making any investment decisions. The Crypto Basic is not responsible for any financial losses.
-Advertisement-