Over 17.43 Million Shiba Inu (SHIB) burned in the past 24 hours.
Shiba Inu Community burned a considerable amount of Shiba Inu over the last day. As per Shibburn.com, 17,434,272 (17.43M) has been sent to the dead wallet via eight separate transactions in the past 24 hours.
In the past 24 hours, there have been a total of 17,434,272 $SHIB tokens burned and 8 transactions. Visit https://t.co/t0eRMnyZel to view the overall total of #SHIB tokens burned, circulating supply, and more. #shibarmy

— Shibburn (@shibburn) January 21, 2023
The two major burn transactions come from the wallet associated with the decentralized cryptocurrency exchange Uniswap. The first transaction resulted in the permanent removal of 6,111,360 SHIB from circulation, and the second transaction resulted in the destruction of another 6,153,724 SHIB. As per data provided by Etherscan.io data, both burn transactions were performed about 10 hours ago from press time.
Despite the said major burn transactions, the overall Shiba Inu's burn rate dropped -26.24% compared to the previous day.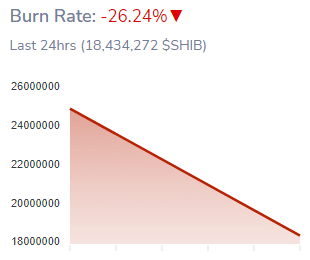 Overall, as per the data from the official website of Shibburn.com, a humungous amount of SHIB tokens, 410,384,664,783,380 (410.38T) have been permanently removed from circulation so far. Whereas, the total number of SHIB that are still in circulation is 571,666,649,767,961 (571.66T).
Shiba Inu once again becomes the "top trend" on the most popular crypto data aggregating website CoinMarketCap (CMC). As reported earlier by The Crypto Basic, the development comes after the lead developer, Shytoshi Kusama, included the word "Shibarium" in his Twitter bio. This has led to speculation and anticipation among the community surrounding the launch of a new solution called Shibairum – Layer 2, which the team had previously announced but not yet released.