Over 20.92 Million Shiba Inu (SHIB) burned in the past 24 hours, 19.40 Million in a single transaction.
Shiba Inu (SHIB) has seen its burn rate skyrocket by an unprecedented 10,109% in the past 24 hours.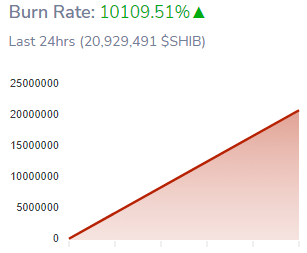 The premature increase in the burn rate comes as Shiba Inu Community collectively destroyed 20,929,491 (20.92M) SHIB via four individual transactions.
In the past 24 hours, there have been a total of 20,929,491 $SHIB tokens burned and 4 transactions. Visit https://t.co/t0eRMnyZel to view the overall total of #SHIB tokens burned, circulating supply, and more. #shibarmy

— Shibburn (@shibburn) February 8, 2023
The reason for the hasty spike in Shiba Inu's burn rate might not be as thrilling because only a smaller number of tokens, 205,000, were burned on February 7th compared to February 8th, leading to a noticeable increase in the burn rate.
CryptoCom Wallet
The most significant burn of the day occurred through the Singapore-based cryptocurrency exchange, Crypto.com's wallet, named Crypto.com 2. The data from Etherscan.io shows that a massive 19,400,000 (19.40M) SHIB were transferred to the "dead" wallet in a single transaction from Crypto.com 2. This transfer was executed about 14 hours prior to press time.
🔥 19,400,000 $SHIB -> transferred to dead wallet. https://t.co/YinwJOWTuZ

— Shibburn (@shibburn) February 7, 2023
On the other hand, Shiba Inu continues to attract a lot of attention from big investors, as the launch of Shibarium approaches. As reported earlier by The Crypto Basic, Shiba Inu holds a major portion of large investor portfolios. Shib accounts for 16% of the top 5000 ETH whales holdings, excluding stablecoins. The big 5K whales currently hold a combined total of 52.03 trillion Shiba Inu (SHIB), which is currently valued at a massive $733.1 million.