Over 39.51 Million Shiba Inu (SHIB) Tokens Burned in 24 Hours
In a surprising development, the Shiba Inu (SHIB) Community has sent a staggering 39,515,844 SHIB tokens to a "dead" wallet in seven separate transactions over the past 24 hours.
In the past 24 hours, there have been a total of 39,515,844 $SHIB tokens burned and 7 transactions. Visit https://t.co/t0eRMnyZel to view the overall total of #SHIB tokens burned, circulating supply, and more. #shibarmy

— Shibburn (@shibburn) February 13, 2023
The massive burn was led by two major wallets, Binance-associated "Binance 15" and the Community-led SHIB Burn initiative, known as "SHIB Super Store." These two wallets collectively burned a whopping 26,284,073 (26.28M) SHIB through two separate transactions.
Breakdown of Transactions
Etherscan.io data shows that the unknown Binance user sent 16,687,520 (16.68M) SHIB, worth to an "inferno" address in one transaction, executed about 6 hours ago.
🔥 16,687,520 $SHIB -> transferred to dead wallet. https://t.co/Y3UTjWIznf

— Shibburn (@shibburn) February 13, 2023
After an hour, the "SHIB Super Store" removed 9,596,553 (9.59M) SHIB from circulation forever in a single transaction using the official SHIB Burn Portal.
In a tweet, the project noted it is uniform in burning $250 per week, and also mentioned that it can burn even more, with a record of burning $12,000 in one month last February.
Feb 12 Burn and Reward

9.5M Burned
9.5M Rewarded

About $245 total

We have been very consistent in the $250/week range, but I know we are capable of a lot more. Last February we burned $12000 in one month!https://t.co/d0goxr6syshttps://t.co/sgbqHLk07z pic.twitter.com/EwScpjTdUn

— SHIB Super Store (@shib_superstore) February 13, 2023
Even though a substantial amount of Shiba Inu tokens were burned, the rate at which they were being burned decreased by -20.48% over the last day.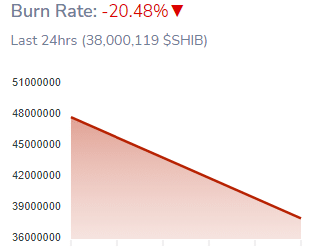 As of writing this report, Shiba Inu is trading at the price of $0.00001297, up 0.90% over the last day, with a 24-hour trading volume of $382,936,221 ($382.93M).