Shibarium – Layer 2 Solution may go Live this Week – Shiba Inu Fans on the Edge of Their Seats.
Shiba Inu fans were excited following a tweet from YourPOP on Feb 18th, a well-known crypto YouTuber. According to his tweet, Shytoshi Kusama, the SHIB lead developer, confirmed that the highly-anticipated Shibarium Beta would likely go live this week as SHIB co-developer Kaal Dhairya has returned to work after taking time off to mourn his father's loss.
To the #SHIB community, Shytoshi just stated that the #Shibarium beta should be live next week!!!!! Kaal is back in action!!!!!!!!!!!! 🚀🚀🚀🚀🚀🚀🚀 #shiba #SHIBARMY

New Video (leak): https://t.co/aCJXYG9tgo

— YourPOP (@Yourpop8) February 18, 2023
Responding to the tweet, one of the active Community members named "ShibArmy Canada" raised doubts about the integrity of the announcement. The member suggested that there was no official information about the release date of Shibarium and that YourPOP's tweet may have been misleading.
Shytoshi Kusama responded to the skepticism on Feb 18th, saying that if the announcement turned out to be accurate, ShibaArmy Canada would owe YourPOP an apology.
Kusama's tweet reads: "When he is right, you owe him an apology."
Wen he is right you owe him an apology.

— Shytoshi™ (@ShytoshiKusama) February 18, 2023
Later, the founder of PawZone and admin of the official Shibarium Telegram group, JD's Updates, also confirmed the development.
#Shibarium beta should be releasing next week ShibArmy. Let the show begin.

— JD's Updates (@jds_updates) February 18, 2023
Shytoshi Kusama further decided to add more excitement to Shibarium's launch by organizing a poll on the official Shibarium Telegram group named "All Things Shibarium." The poll asked the Shiba Inu community to guess which event would happen first – the launch of Shibarium Beta or the Telegram group reaching 30,000 members.
At the time of the screenshot, over 4,400 members predicted that the launch of Shibarium Beta would happen first. In comparison, only 442 members believed the Telegram group would reach the 30,000 members milestone before the launch.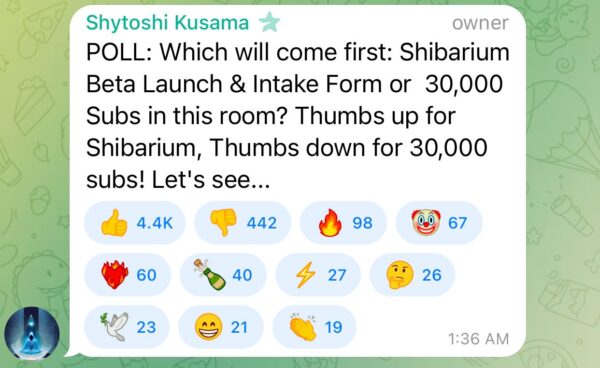 Users should remember that on Feb 20th, the new week has started, and this may be the week when the Shibarium beta launch may come.
The development has positively impacted Shiba Inu's governance token, Bone ShibaSwap (BONE). As of writing, Bone ShibaSwap is being traded at $1.65, which indicates a 7.3% increase in its value over the past day, and its 24-hour trading volume is recorded to be $11,846,832 ($11.84M).