The functionality also allows users to buy USDT seamlessly with their bank cards or through the dedicated P2P market.
Users can now send and receive TetherUSD (USDT) with each other through chats for free on Telegram. The feature is made available through the Wallet bot, allowing users to buy, send and receive digital assets. The development was disclosed today by Wallet News, a channel dedicated to providing updates on the Wallet.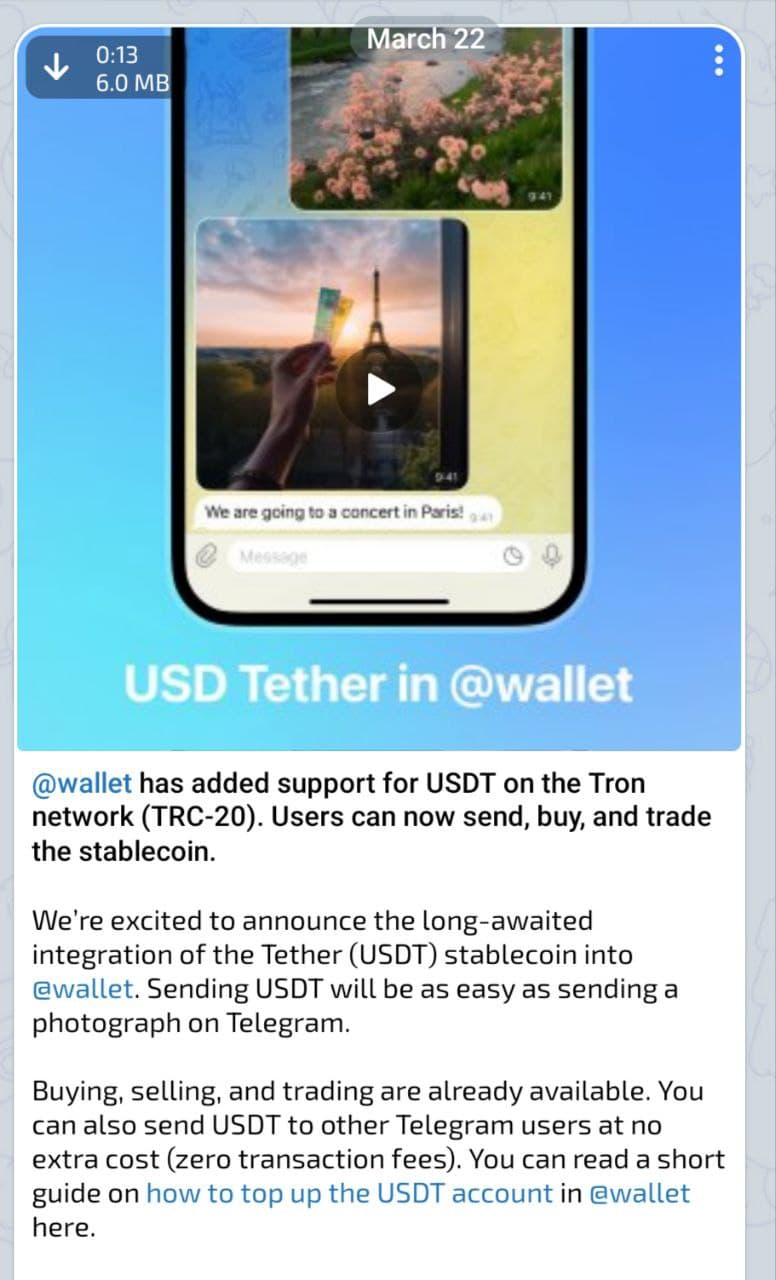 A quick look into the Wallet bot shows that USDT support has already been integrated. Notably, users can buy USDT seamlessly with their bank cards or through the dedicated P2P market without even leaving the Telegram messaging application. An option to sell USDT on the market is also available.
The Wallet project is being developed and maintained by a team of independent developers and has no official affiliation with Telegram.
"Sending USDT will be as easy as sending a photograph on Telegram," the official announcement teases. USDT now joins the two other assets already supported by the Wallet bot: Bitcoin (BTC) and The Open Network token (TON). The announcement reveals that USDT is only supported on the Tron network (TRC20).
The inclusion of USDT helps give users exposure to stablecoins which boast the numerous advantages of a typical crypto asset but without the volatility that comes with crypto investments. As such, investors who might have been discouraged by market volatility can now peacefully leverage the Wallet bot.
Paul Dirov and Nikolai Durov, the developers of Telegram, officially started The Open Network (TON) initiative in 2018 with a vision to make blockchain transactions as easy as sending and receiving messages. However, following issues with the U.S. Securities and Exchange Commission (SEC), Telegram abandoned the project. 
A community of independent developers picked it up afterwards and has since then been expanding it. Shortly after, the TON Foundation was launched to oversee the development of the project. Following the launch of the wallet bot, adoption has skyrocketed. Accordingly, the Foundation has been persistently pushing upgrades to meet the growing demands of the community.
The Foundation, which has no official affiliation with Telegram, added the feature for sending and receiving cryptocurrencies in-app last April, but the functionality was limited to the TON token despite the Wallet bot's support for BTC purchases.
Note: This article was updated on March 29 to reflect the fact that Telegram is not officially affiliated with theWallet project.
Follow Us on Twitter and Facebook.
Disclaimer: This content is informational and should not be considered financial advice. The views expressed in this article may include the author's personal opinions and do not reflect The Crypto Basic's opinion. Readers are encouraged to do thorough research before making any investment decisions. The Crypto Basic is not responsible for any financial losses.
-Advertisement-