Merchants that accept crypto have different needs compared to regular Bitcoin holders, so regular  wallets like MetaMask aren't suitable for them. In this article, we'll look at the differences between proper merchant wallets and standard wallets, list the best providers, and analyze CoinsPaid wallet – one of the best hot wallets for crypto designed for businesses.
3Top crypto wallets for business in 2022
Why use a crypto wallet for business?
Hot or cold: choosing the right type of crypto wallet for business
A general hot wallet or a business wallet?
CoinsPaid: is this the safest hot wallet for business?
Why use a crypto wallet for business?
Cryptocurrency payments are a much bigger business than you probably think: for example, CoinsPaid alone processes over a billion dollars each month in crypto transactions for over 800 businesses.
There are several reasons why merchants choose this payment method:
Much lower costs than with card payments;
Almost-universal acceptance (possibility to sell to customers all across the world);
No rolling reserves and therefore no chargeback issues;
High security (dedicated security team, integrated two risk scoring systems such as Scorechain and Crystal, security audits like Hacken and 10Guards, passed on a regular basis)
Tens of thousands of e-Commerce and other online companies already have merchant accounts or merchant wallets with one of the dozens of crypto payment providers in the market. To this, you should add the 30,000 offline venues that accept Bitcoin, USDT, and other cryptocurrency (according to CoinMap).
As for the specific use cases for a business crypto wallet, we can name three:
1) Receiving low-frequency payments for goods and services sold online and offline and storing the crypto revenue;
2) Paying partners and affiliates. This use case of business wallet is often overlooked, but it's really important, because affiliate rewards in crypto are becoming ever more popular – and they are much cheaper for the business in terms of fees.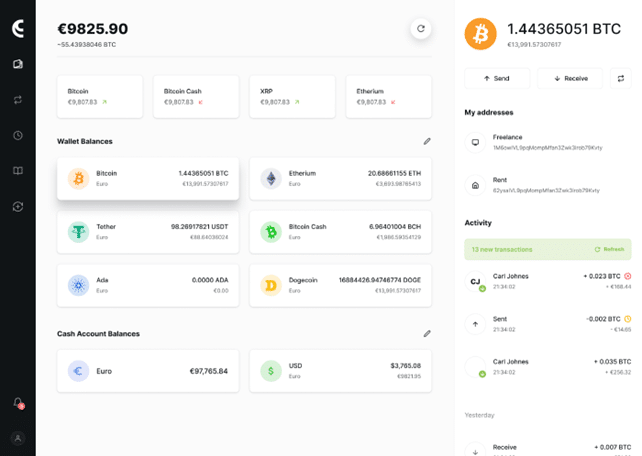 Hot or cold: choosing the right type of crypto wallet for business
Cryptocurrency wallets come in two basic types: hot and cold.
A hot crypto wallet is a piece of software that requires an internet connection to work. It can come in the form of an online app that you access through a website; a program that is installed on a desktop; or a mobile app. Hot wallets are free, except for the transaction fees.
A cold wallet is a hardware device that is kept disconnected from the internet, except for cases when you need to transfer cryptocurrency to or from it. The most popular models are Ledger Nano and Trezor, Both cost around $120-250.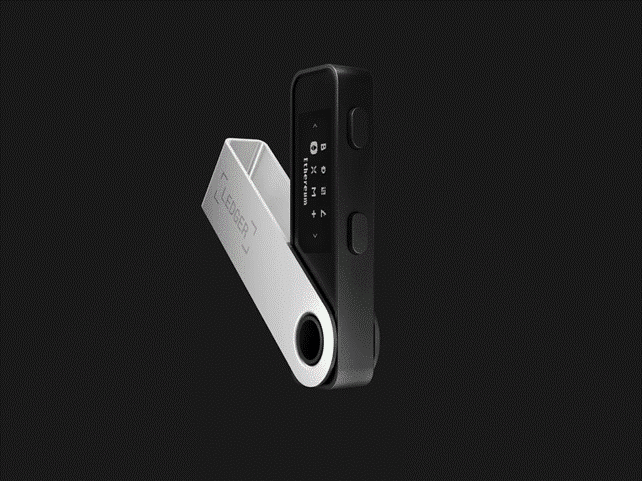 Cold wallets are very safe, since hackers have no way of accessing them (as they aren't connected to the internet). A cold wallet is recommended for long-term storage of large amounts of crypto.
On the other hand, the key advantage of a crypto hot wallet over a cold one is that it's always ready whenever you need to make a transaction. All the wallets for merchants are of the hot type.
A general hot wallet or a business wallet?
There's one more distinction we need to make: that between the general-use crypto wallets, designed for individuals, and those created with companies in mind. By general-use wallets we mean those that regular crypto holders (individuals) use, such as MetaMask, Trust Wallet, Exodus, Guarda, etc.
A hot wallet for crypto that is designed for merchants can have the following features that a regular one won't:
Integration to a crypto payments system. Practice shows that accepting crypto payments for online purchases to an address of a general Bitcoin hot wallet like Exodus isn't a good idea. Merchants simply can't keep track of all the transaction confirmations, and there is a risk that you will receive 'dirty' Bitcoins (coins that have been involved in criminal activity). Building one's own payment system is too expensive and time-consuming, so it's really better to rely on a professional payment provider, such as CoinsPaid.
Support of both crypto and fiat currencies, so that you can exchange Bitcoin into USD, for example. This minimizes volatility risks: even if the price of BTC drops by 10% in a day (which sometimes happens), your revenue won't suffer;
Withdrawals to a linked bank account via SEPA / SWIFT;
Professional customer support by the wallet's team;
Enhanced security, as the wallet provider will have their own security team. The best hot wallets are really safe, though users need to exercise caution not to disclose their passwords etc.
All the official documents needed for business to integrate this payment method into the ecosystem.
CoinsPaid offers both types of wallets: a hot wallet for business, which we'll examine in some detail in the next section, and a personal crypto wallet. The difference is that the hot wallet for business is fully integrated with CoinsPaid's payment processing solution.
Apart from CoinsPaid, some of the best hot wallets for cryptocurrency that are suitable for merchants include:
com – supports BTC and BCH (Bitcoin Cash);
Binance Pay – by the biggest crypto exchange Binance and also integrated with Binance Card;
Coinbase – supports 8 cryptocurrencies, including Shiba Inu and Dogecoin.
CoinsPaid: is this the safest hot wallet for business?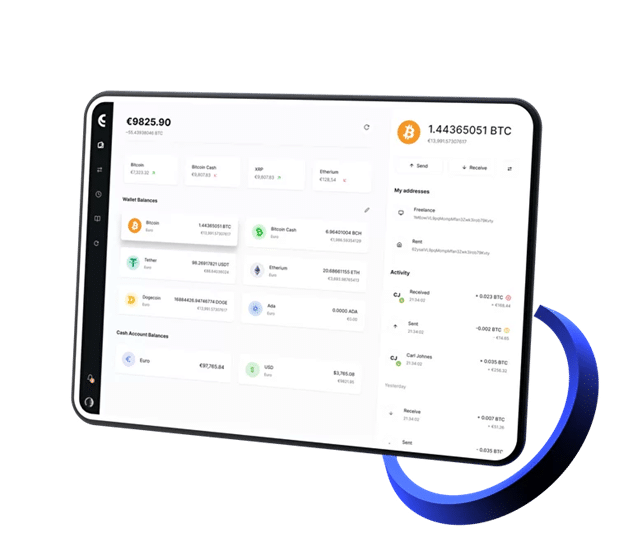 CoinsPaid is the world's largest cryptocurrency payment provider by volume, and its CoinsPaid Business wallet is one of the best crypto hot wallets designed for businesses. It has a number of advantages that aren't found in most other merchant wallets:
Supports more than 20 cryptocurrencies and over 40 fiat currencies;
An in-house security team plus partnerships with two major blockchain security providers Scorechain and Crystal to identify and red-flag suspicious transactions (such as 'dirty' Bitcoins);
CoinsPaid's products have been audited by Hacken, and 10Guards – yet another reason to consider it the safest wallet for merchants;
Built-in instant crypto exchange and even an OTC desk for large transactions;
Instant transaction confirmation thanks to a partnership with GAP600. With other wallets, it can take as much as an hour to confirm one Bitcoin payment; with CoinsPaid you don't have to wait till a transaction is confirmed in the mempool. You get your crypto instantly to your wallet.
Merchants can automatically convert crypto to fiat on the go and then withdraw to a bank account via SEPA / SWIFT
Possibility to set different individual transaction limits for withdrawals in different cryptos;
All the necessary documentation for tax and reporting purposes provided upon request;
Different access rights for various users, plus an address whitelist.
Integrating CoinsPaid and cryptocurrency payments doesn't take long. Every merchant is assigned a personal integration manager that guides a client through the integration process . Aside from this, merchants can even get advice on how to attract crypto traffic to their site and access new audiences of crypto holders.
Summary
Dozens of thousands of merchants accept crypto, attracted by low payment costs, enhanced security, and near-universal acceptance.
Apart from accepting payments, business wallets make it possible to settle with partners and pay affiliates.
A hot wallet is more suitable for accepting and sending payments, while a cold wallet should be used to store large amounts.
The best hot wallets for business have many features that regular crypto wallets don't such as fiat settlements to a bank account, extra security, customer support, etc.
One of the best hot wallets for merchants is CoinsPaid, which supports 40+ fiat currencies and 20+ cryptocurrencies, instant transaction confirmation, and more.
Integrating a crypto wallet for business is a quick and painless process, as long as you go with an established provider.
Follow Us on Twitter and Facebook.
Disclaimer: This content is informational and should not be considered financial advice. The views expressed in this article may include the author's personal opinions and do not reflect The Crypto Basic's opinion. Readers are encouraged to do thorough research before making any investment decisions. The Crypto Basic is not responsible for any financial losses.
-Advertisement-