Shiba Inu Community Torches Over 834 Million Shiba Inu (SHIB) Tokens in Week-Long Burning Frenzy.
Shiba Inu Community has made headlines again by burning many SHIB tokens in the past week. A total of eighty-two transactions were performed, resulting in the elimination of 834,804,461 (834.80M) SHIB.
In the last 7 days, there have been a total of 834,804,461 $SHIB tokens burned and 82 transactions. #shib

— Shibburn (@shibburn) March 26, 2023
Biggest Burn of The Week
The record-breaking burn occurred on March 21st when the Shiba Inu Community reduced the circulating supply of SHIB by a staggering 758,951,740 (758.95M) tokens through nine separate transactions. Koyo (KYO), a newly emerged token, was the biggest burner that day, sending a massive 733,024,321 (733.02M) SHIB to the inferno address in one transaction.
On the same day that is March 21, the Coinbase-associated wallet tagged "Coinbase 10" destroyed 18,323,408 (18.32M) SHIB in a separate transaction, further reducing the circulating supply of Shiba Inu tokens.
Past 24 Hours
Over the past 24 hours, Shiba Inu Community has eliminated 34,039,159 (34.03M) SHIB through nine separate transactions.
Mysterious Wallet
According to data from Etherscan.io, the unknown wallet has destroyed an enormous 10,052,157 (10.05M) SHIB in a single transaction executed approximately 14 hours ago from press time.


The wallet now holds 29,965,973 (29.96M) SHIB, valued at $315.24, suggesting that more SHIB burns might occur in the near future.
SHIB Super Store
In addition, the SHIB Super Store has tweeted that it has removed 9,674,374 (9.67M) SHIB from circulation forever in a single transaction using SHIB Burn Portal. Alongside the burns, the individual SHIB Burn project has also distributed 9.5 Million Shiba Inu among the Community as a reward.
Burn/Reward

9.6M Burned
9.5M Rewarded

Total about $205

Slightly below last week, caused by lower CPM in the games, as well as smaller purchases on Amazon. However, we have seen an uptick in engagement, with ad serves up 3% week over week!https://t.co/d0goxr6sys pic.twitter.com/EnEBduH3A6

— SHIB Super Store (@shib_superstore) March 27, 2023
24-Hour Burn Rate
These massive burns have caused the overall Shiba Inu burn rate to surge by 1107% over the past day.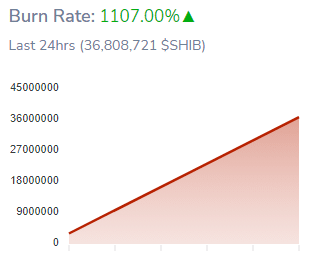 As of writing, Shiba Inu is trading at the price of $0.00001051, down -0.32% over the past day with a 24-hour trading volume of $134,941,972 ($134.94M).
Follow Us on Twitter and Facebook.
Disclaimer: This content is informational and should not be considered financial advice. The views expressed in this article may include the author's personal opinions and do not reflect The Crypto Basic's opinion. Readers are encouraged to do thorough research before making any investment decisions. The Crypto Basic is not responsible for any financial losses.
-Advertisement-