Shiba Inu (SHIB) Tokens Go Up in Smoke as Community Burns Over 814.90 Million in 24-hour Frenzy.
The Shiba Inu Community has taken a big step towards reducing the circulating supply of SHIB tokens by burning a staggering 814,901,863 (814.90M) SHIB in seven transactions within the last 24 hours.
In the past 24 hours, there have been a total of 814,901,863 $SHIB tokens burned and 7 transactions. Visit https://t.co/t0eRMnyZel to view the overall total of #SHIB tokens burned, circulating supply, and more.

— Shibburn (@shibburn) March 28, 2023
The largest burn came from the newly emerged token, Koyo (KOY), which removed an impressive 794,858,822 (794.85M) SHIB from circulation in one significant transaction. As a result, the overall burn rate has soared by a remarkable 2080% in just one day.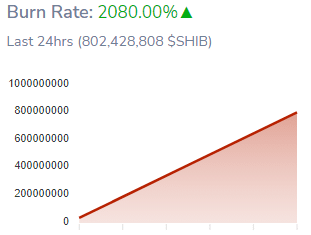 Apart from Community-led burn initiatives, Shiba Inu developers are also taking steps to address the issue of the massive circulating supply of SHIB. According to recently revealed Shibarium documentation, the developers plan to use 70% of the base fee of every transaction to buy back and burn Shiba Inu. The remaining 30% will be allocated toward network maintenance and operational costs. The Shibarium plan is subject to change as the network evolves, but it marks a significant step towards reducing SHIB's circulating supply.
On the other hand, Vitalik Buterin's ground-breaking burn of 410 trillion Shiba Inu tokens, worth $7 billion, has been recognized as one of the largest on-chain transactions ever by Conor Grogan, Director of Product Strategy & Business Operations at Coinbase. Buterin burned the SHIB tokens in May 2021, setting a historical precedent of burning coins in the cryptocurrency world.
Despite the massive burning activity, Shiba Inu's price remains on the back foot. As of press time, Shiba Inu is trading at $0.00001039, down -1.13% over the past day with a 24-hour trading volume of $273,113,650 ($273.11M).
Follow Us on Twitter and Facebook.
Disclaimer: This content is informational and should not be considered financial advice. The views expressed in this article may include the author's personal opinions and do not reflect The Crypto Basic's opinion. Readers are encouraged to do thorough research before making any investment decisions. The Crypto Basic is not responsible for any financial losses.
-Advertisement-