XRP community members are concerned as Cramer says Ripple might win the SEC case.
The XRP community has been riding on a high in recent weeks. XRP's price soared as confidence in a Ripple victory in the United States Securities and Exchange Commission (SEC) case appeared to be at an all-time high. 
However, the community may have now been given a reason to be concerned as CNBC Mad Money host Jim Cramer has said the SEC may lose in its case against Ripple.
"SEC says look they're creating securities day after day after day there's a Ripple case they may not even win the Ripple case but the Binance is very very different," Cramer said in the clip that has made the rounds on crypto Twitter. 
For context, it is worth noting that the pundit has earned his place as an inverse indicator, with outcomes often going in the opposite direction of his predictions in traditional and crypto markets. One reason is that he encourages viewers to buy at the top and sell at the bottom, albeit unwittingly. 
His most recent gaffes include a vote of confidence on Silicon Valley Bank and First Republic Bank. The former collapsed earlier this month and is being purchased by First Citizens. Conversely, the latter has a $12 billion hole in its balance sheet that it is trying to cover before it can again look for a buyer.
Until now, the XRP community has had little reason to worry about "Inverse Cramer," as he has often called the cryptocurrency a scam.
'The Kiss of Death'? XRP Community Members React
Attorney John E. Deaton, who represents thousands of XRP holders as a friend of the court in the SEC case against Ripple, claimed that XRP's latest price correction began when Cramer expressed that Ripple could win the SEC case.
The very moment XRP's price stopped moving upward and did a 180 turn was win @jimcramer said Ripple might win. Jimmy Chill can you go back to calling it a scam please? https://t.co/Uqn7pfxwbM

— John E Deaton (@JohnEDeaton1) March 29, 2023
Deaton's statement prompted one community member to describe Cramer's support as "The Kiss of Death."
The Kiss of Death https://t.co/mlrZoViYyA

— Lady K (@KristinDack) March 30, 2023
XRP is down 1.39% in the last 24 hours at the time of writing after several days of recording double-digit percentage gains.
Another user quoting the proverb "even a broken clock is right twice a day" prayed that Cramer's prediction in the Ripple would be one of the few times the pundit would be correct.
Even a broken clock is right twice a day. One of these days he will hit. Let it be this one.

— Yods🔜🕚 (@WhoDeanie589) March 30, 2023
Another asserted that this instance does not count as the pundit did not say it with his usual conviction. However, he still described it as a close call.
It doesn't count, he didn't say it with complete conviction. He's usually very insistent on the direction of his advice, but that being said. This was to close for comfort. LOL

— Clever Crypto (@ChrisGarza789) March 30, 2023
What Do the Charts Say?
Ignoring the social media chatter and looking at the price chart, it appears to be another case where the pundit has unwittingly called the local top.
Notably, XRP's latest price rally resulted from the breakout of a descending wedge pattern on the daily chart. For context, a breakout of this chart pattern tends to see the market push as high as the beginning of the pattern or at least 90% of the way before starting a big price correction that could see the market continue to push higher or reverse direction. 
It remains to be seen which route XRP would take as it has tapped the beginning of this chart pattern.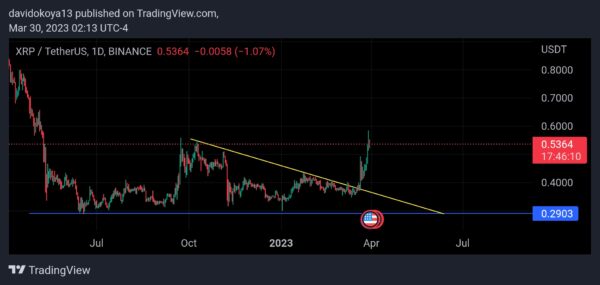 Recall that, as reported yesterday, veteran trader Peter Brandt tapped the asset to exceed the $3 price point if it fulfills its compound fulcrum bottom pattern.
Follow Us on Twitter and Facebook.
Disclaimer: This content is informational and should not be considered financial advice. The views expressed in this article may include the author's personal opinions and do not reflect The Crypto Basic's opinion. Readers are encouraged to do thorough research before making any investment decisions. The Crypto Basic is not responsible for any financial losses.
-Advertisement-