Shiba Inu garnered considerable interest from investors amid the buzz surrounding Shibarium beta, which launched in March.
Shiba Inu (SHIB) is ranked among the most googled cryptocurrencies in the United States for March. This milestone is a testament to the increasing appeal of the canine-themed asset, particularly in light of the excitement surrounding Shibarium Beta, which launched in March.
Notably, "Shiba inu cryptocurrency" is among the highest Google queries related to the "Cryptocurrency" search. The query is only below "bitcoin" and "cryptocurrency prices." Moreover, searches for "shiba inu cryptocurrency" rose 180% in March. For context, Google searches for "bitcoin price" only saw an 80% increase.
In addition, information from Google results shows that searches for "shiba inu news" increased by a whopping 150% in March, indicating the growing rate at which investors are interested in keeping abreast with the latest asset developments.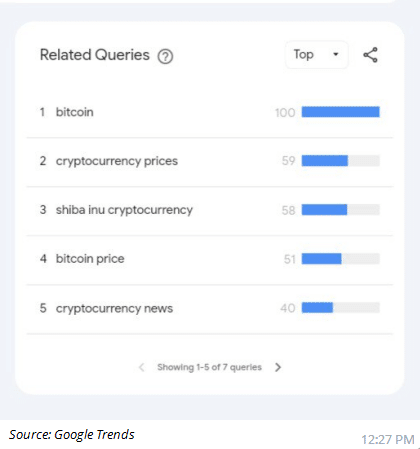 Data from Google Trends further indicates an erratic pattern in searches for Shiba Inu in March. Particularly, March 5 saw the highest number of Shiba Inu searches as the buzz around Shibarium began to gain momentum. Interest in the asset continued to fluctuate until another surge was witnessed on March 13, merely two days after the launch of Shibarium Beta. 
Google Trends data further suggests that the residents of the state of Vermont showed the most interest in Shiba Inu throughout March, with North Dakota and Delaware accounting for the second and third highest searches, respectively. 
The surge in Google searches for Shiba Inu is not unexpected, considering the asset's astronomically rising prominence. A January report from CoinDCX revealed that Shiba Inu was the second most searched cryptocurrency in the United States for 2022, only below Bitcoin. It also ranked third in global searches.
Shiba Inu's Bullish Developments
The particular surge in interest in March was partly triggered by a cluster of bullish developments surrounding the asset. The majority of these developments pertained to Shibarium. Last month, several platforms were ready to support the L2 network upon launch.
March also saw the launch of the beta phase of the network, dubbed "Puppynet." The testnet reached notable milestones shortly after its launch, with the most recent being a wallet count above 200,000 and over 2 million processed transactions.
Follow Us on Twitter and Facebook.
Disclaimer: This content is informational and should not be considered financial advice. The views expressed in this article may include the author's personal opinions and do not reflect The Crypto Basic's opinion. Readers are encouraged to do thorough research before making any investment decisions. The Crypto Basic is not responsible for any financial losses.
-Advertisement-