Terraport was hacked after a few days of Launch.
Terraport, the recently-launched Terra Classic DeFi platform developed by TerraCVita, has reportedly been hacked, with all of its liquidity drained. Data from Terra Finder suggests that almost $4 million worth of Terra Classic (LUNC), TerraClassicUSD (USTC), and TERRA has been drained.
LUNC DAO, a prominent Terra Classic validator, first called attention to the unfortunate development today, sharing two transactions suggesting that the protocol had drained all its liquidity in LUNC, USTC, and TERRA.
Terraport just got hacked / rugged

Sad news for all $TERRA holders who just lost everything in a split second

Hopefully now you understand why I advised caution and said it should have been audited

All funds gone:https://t.co/0RcAvbQsm7https://t.co/bRLVclcIt5

— Crypto Susanna (@LUNCDAO) April 10, 2023
The first transaction shows the withdrawal of 9,148,426 (9.1 million) TERRA valued at an estimated $1.8 million against prevailing rates and 15,100,861,997 (15.1 billion) LUNC tokens worth $1.88 million. All these funds were withdrawn from the protocol's liquidity today at 03:13 (UTC).
The second transaction reveals the withdrawal of 576,736 TERRA worth an estimated $115K and 5,487,381 (5.48 million) USTC currently valued at $117K. This transaction occurred shortly after the previous one, at 03:13 (UTC)—all funds are withdrawn, amounting to an estimated $3.9 million against prevailing rates.
Official Statement from Terraport
Following both transactions, the Terraport smart contract currently holds a paltry 2.8 million LUNC worth $362. As of press time, an official statement from the TerraCVita development group or the Terraport team was made on Telegram but nothing on Twitter yet.
Rex "Rexyz" Harrison, a senior TerraCVita member, has not issued any statement.
On telegram, the TerracVita team is accepting the hack.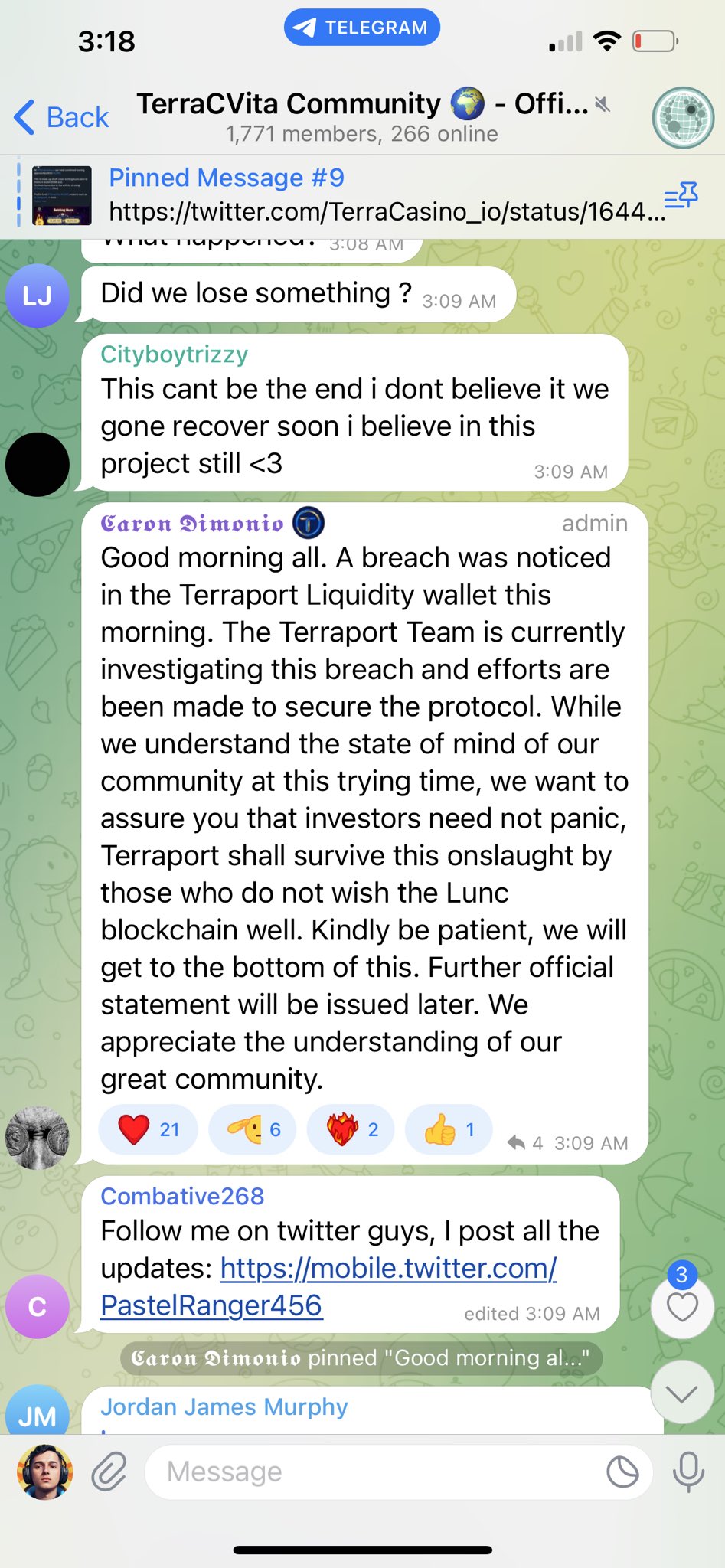 Classy Crypto, a TerraCVita core team member, acknowledged the development,
… I feel so defeated right now.
He also distanced himself from the event and noted that he never received any tokens or compensation from TerraCVita. Classy further disclosed that some of his relatives had lost thousands to the event. The influencer has erased all previous tweets about Terraport and reviewed his Twitter bio to remove any affiliation with TerraCVita.
Someone just drained the $TERRA liquidity.

I feel so defeated right now. I fought for almost a year straight for #LUNC & yet here we are & I've failed you all.

The one project that looked so promising for $LUNC.

Getting word that an exploit just took place on Terraport.

I…

— Classy 🔮 (@ClassyCrypto_) April 10, 2023
ReXx, a notable Terra Classic community member, disclosed that some of the funds withdrawn to MEXC Global, amounting to $124K, have been frozen by the exchange upon alert. ReXx noted that he works with other exchanges to freeze the remaining assets.
Here is the current balance sent to MEXC exchange that is now FROZEN.

I am working with the remaining exchanges to freeze the other transactions. pic.twitter.com/pRfJdOybYN

— reXx™ (@CosmoSreXx) April 10, 2023
RexX pointed out that he had previously called attention to the project's codebase, noting that they should pay for an audit from Certik. However, these calls were rebuffed. In hindsight, several community members have questioned why the project was deployed without a proper Certik audit.
I put out a tweet on terraport last week and it didn't take long for this to come to fruition. I pray for all investors and hope you all get your funds back. https://t.co/PeUAp5IEbK

— reXx™ (@CosmoSreXx) April 10, 2023
Concerns regarding Terraport had emerged on April 8 when the project revealed that it had burned almost 100 million LUNC tokens without transaction proofs. The community raised concerns, requesting that the transactions be shared with the public.
Follow Us on Twitter and Facebook.
Disclaimer: This content is informational and should not be considered financial advice. The views expressed in this article may include the author's personal opinions and do not reflect The Crypto Basic's opinion. Readers are encouraged to do thorough research before making any investment decisions. The Crypto Basic is not responsible for any financial losses.
-Advertisement-