The Terra Classic L1 had to provide a reviewed funding proposal shortly after the controversy triggered by the first one.
The Terra Classic (LUNC) community remains committed to supporting LUNC journey to $1, as it recently voted to pass the reviewed funding proposal for Q2 submitted by the Layer-1 Joint Task Force (L1JTF). The proposal seeks $124.8K in funding for work on the Terra Classic network in the year's second quarter.
Proposal 11462 was submitted eight days ago by LUNC Burn Army (LBA), the L1 Team's project manager, and has so far crossed the pass threshold, with 55.53% of votes supporting it. Notably, 38.54% of community votes are against the proposal. Prominent validators that voted Yes include Allnodes and TerraCVita.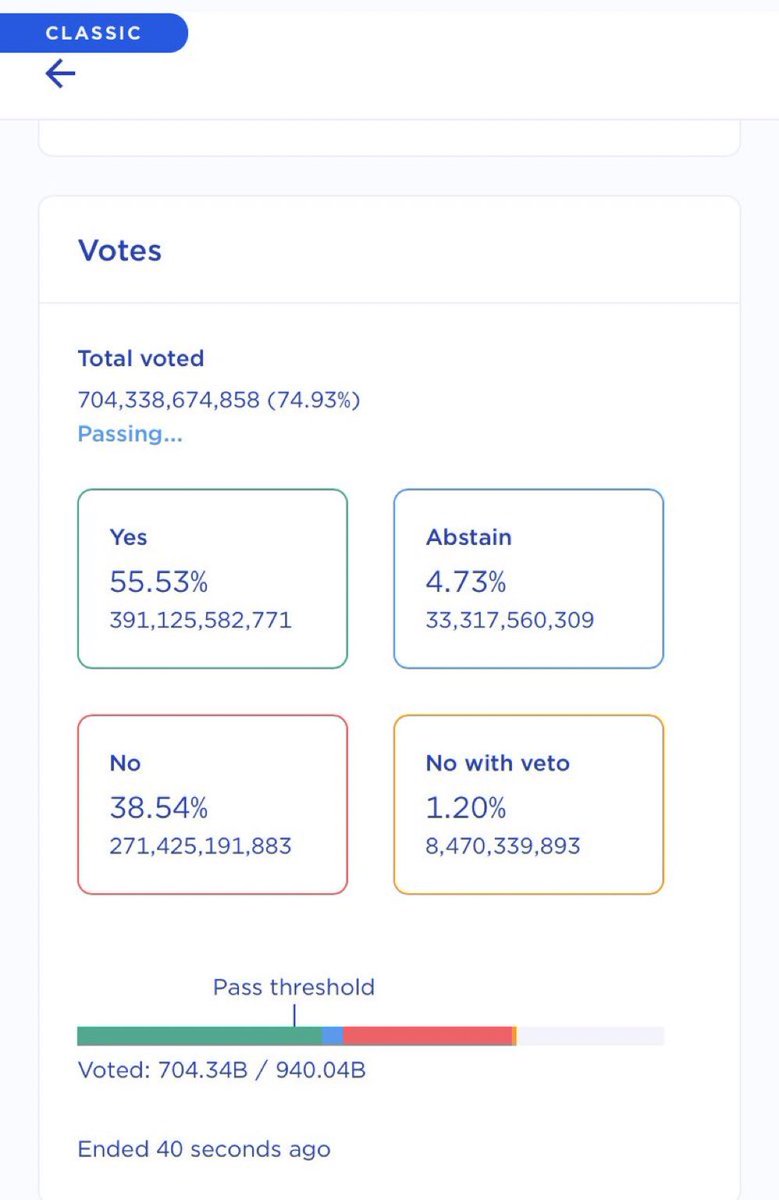 Following the controversy triggered by the previous funding proposal and the issues with Tobias "Zaradar" Andersen, the sole full-time developer on the team, LBA introduced a new proposal with amendments that sought to address the concerns raised to an extent.
The reviewed proposal requested $124.8K to fund the Q2 work. The funds are expected to be distributed in this manner: $37.5K for one full-time developer, $55.8K shared equally among three part-time developers, $15K for the team's project manager, $7.5K shared among two junior developers, and $9K in OPEX funding. These funds will be distributed over three months.
The L1JTF seeks a full-time developer to fill the vacuum created by Zaradar's absence, who departed the team amid the heated controversy. Superman, regarded as one of the essential additions to the team, will receive funding as a part-time developer, having been recently welcomed back to the team following a few weeks of sabbatical.
Oppositions 
Despite the overwhelming votes supporting the funding requested by the L1JTF for Q2, some aspects within the Terra Classic community continue to oppose the proposal, including community member Rabbi Jebediah.
Amid the previous controversy surrounding the L1 team, Jebediah formed a parallel task force to take over work on LUNC for the year's second quarter, putting up a funding proposal for this separate team. The proposal sought $120K in total funding.
Follow Us on Twitter and Facebook.
Disclaimer: This content is informational and should not be considered financial advice. The views expressed in this article may include the author's personal opinions and do not reflect The Crypto Basic's opinion. Readers are encouraged to do thorough research before making any investment decisions. The Crypto Basic is not responsible for any financial losses.
-Advertisement-