Kusama teases the release of ShibaSwap 2.0 in a recent Telegram message.
SHIB's pseudonymous lead developer Shytoshi Kusama has confirmed the imminent launch of ShibaSwap 2.0 in a recent Telegram message. 
"ShibaSwap 2.0 is coming," Kusama said in a Telegram message shared by Shiba Inu enthusiast Lucie Sasnikova.
In the Telegram message, Kusama also urged members of the Shiba Inu community to ignore any information claiming that the upgraded Shiba Inu decentralized exchange will not launch anytime soon. 
"Ignore anything that says otherwise."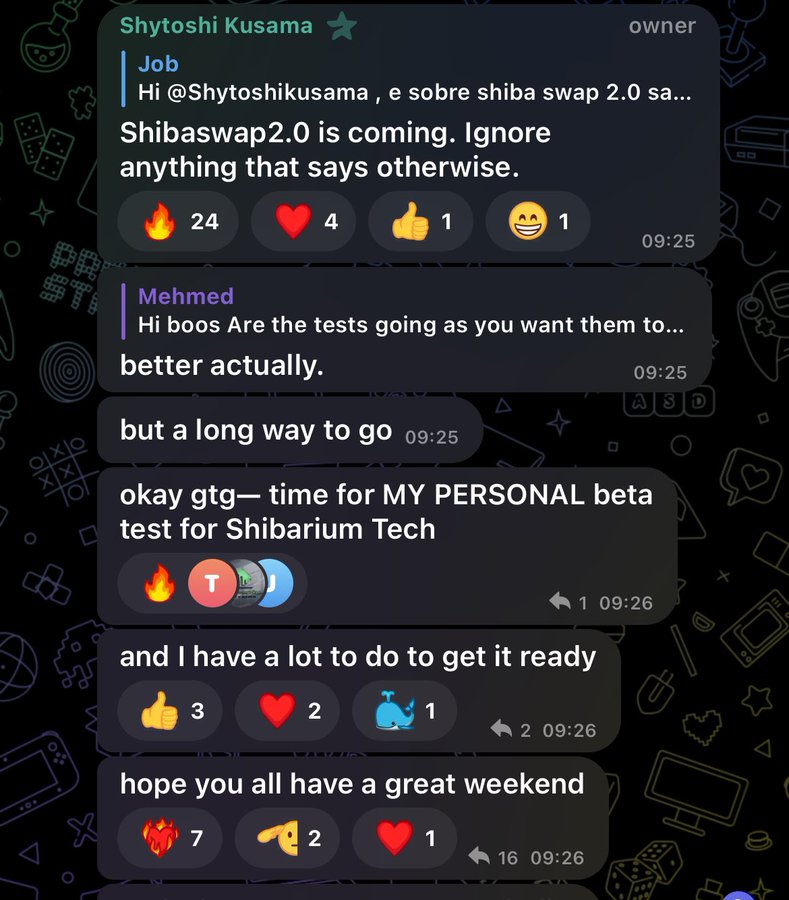 No Official Date
Despite saying that ShibaSwap 2.0 is coming, Kusama did not give an official date for the DEX's launch. Interestingly, the news has stirred excitement among Shiba Inu community members, as the post received many positive reactions.
Launched in July 2021, ShibaSwap is a decentralized exchange that allows users to trade and stake Shiba Inu ecosystem tokens, including SHIB, BONE, and LEASH. Since its launch, the DEX has gained significant traction due to its user-friendly interface and security, among other features. CertiK has continuously Ranked ShibaSwap As Top Watchlisted DEX on its platform.
However, Shiba Inu's team still thinks there is room for the DEX's improvement, which birthed the idea of ShibaSwap 2.0. 
Upcoming Features of ShibaSwap 2.0
According to hints by developer Eric M, the upcoming ShibaSwap 2.0 will not only be a token swap platform but also feature a crypto portal. 
Notably, the crypto portal will be a platform for stats, news, charts, and trends. However, Eric M did not indicate whether the crypto portal will only focus on Shiba Inu or the entire crypto market.
Furthermore, ShibaSwap 2.0 will roll out new and improved designs. At press time, ShibaSwap is ranked as the 56th-biggest decentralized exchange, with a trading volume of $3.5 million, data from CoinMarketCap shows. ShibaSwap has 60 markets, including SHIB/USDC, LEASH/SHIB, and BONE/WETH.
Kusama Says Shiba Inu Beta Testing Is Better
In other news, Kusama disclosed that the public testing of Shiba Inu's L2 network, Shibarium, has gone relatively well. His response comes following a question asked by a member of the group. 
"Hi boos, are the tests going as you want them to?"  
Responding to the question, Kusama said Shibarium testing has been "better." However, he asserts that the project still has a long way to go. The lead developer of Shiba Inu said he still has a lot of work to do to get it ready.
Recall that Puppynet, the beta version of Shibarium, went live on March 11. Since its launch, the project has recorded an impressive surge in adoption.
According to data from Puppyscan, the dedicated explorer for Puppynet, the total number of wallets on Puppynet has exceeded 9.6 million, with more than 3.2M transactions. The feat comes two days after TheCryptoBasic reported that the total wallet was around 5 million.
Puppynet has an average block time of five seconds, while the total blocks stand at 408,478. 
Follow Us on Twitter and Facebook.
Disclaimer: This content is informational and should not be considered financial advice. The views expressed in this article may include the author's personal opinions and do not reflect The Crypto Basic's opinion. Readers are encouraged to do thorough research before making any investment decisions. The Crypto Basic is not responsible for any financial losses.
-Advertisement-