Burn rate surges with a single wallet burning 246.7M Shiba Inu.
Etherscan.io data reveals that the wallet tagged "cultpunks.eth" burned a staggering 246,743,138 (246.74M) SHIB in a single transaction executed about 3 hours ago from press time.


The move has caused the overall burn rate to surge by 1549.47% over the last day.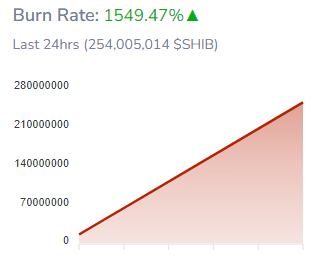 This is the second time "cultpunks.eth" has burned a significant amount of SHIB in the past thirty days. On April 15th, the wallet burned 230,799,740 (230.79M) SHIB in a single transaction.
These burns were made as part of the CultPunks' pledge to dedicate 2% of their raise upon sellout to burn SHIB tokens.
The CultPunks team also allocated 1% of their raise to ShytoshiKusama's fund, dedicated to empowering women in blockchain, and 2% to buyback and burn CULT tokens.
CultPunks are a collection of 10,000 unique and randomly generated NFTs launched in collaboration with Soupsea, an NFT marketplace on Modulus. The NFT collection was minted on April 15th, 2023, and has gained significant popularity among NFT enthusiasts.
As reported earlier by The Crypto Basic, the Shiba Inu Community-led burn initiatives have destroyed a total of 3,269,676,832 (3.26B) SHIB through 125 separate transactions in the month of April 2023.
Follow Us on Twitter and Facebook.
Disclaimer: This content is informational and should not be considered financial advice. The views expressed in this article may include the author's personal opinions and do not reflect The Crypto Basic's opinion. Readers are encouraged to do thorough research before making any investment decisions. The Crypto Basic is not responsible for any financial losses.
-Advertisement-