Some community members recently called attention to projects claiming affiliation with the Shiba Inu team and its ecosystem tokens.
Amid a sudden spike in scam projects claiming affiliation with the Shiba Inu team, Shytoshi Kusama, the Shiba Inu lead developer, has warned investors. According to Kusama, any new token claiming to have been created by the Shiba Inu team is fake, as the team has not yet released the TREAT and SHI tokens.
Kusama recently sounded this warning through the community-driven Telegram group dedicated to Shibarium. The Shiba Inu project lead also cautioned investors to always carry out due research on any project before purchasing tokens issued by the project.

Notably, TREAT and SHI are upcoming tokens set to be released by the Shiba Inu ecosystem developers. The tokens will join other assets such as Shiba Inu (SHIB), DogeKiller (LEASH), and Bone ShibaSwap (BONE) as the official tokens in the Shiba Inu ecosystem. This will bring the total number of official tokens to five.
Kusama introduced TREAT and SHI in a blog post last July. TREAT is expected to serve as the rewards token within the ecosystem, while BONE will function as the gas token for Shibarium. Meanwhile, SHI will serve as the ecosystem stablecoin.
However, neither TREAT nor SHI has been released as of press time despite a proliferation of copycats within the crypto scene. In February, Kusama confirmed that TREAT would not necessarily be released at the same time as the Shibarium mainnet. Besides Kusama, other admins within the Shibarium Telegram group have persistently clarified that the tokens have not been released.
Ragnar Shib, a pseudonymous community member and Shibarium group admin, reiterated this yesterday, emphasizing that any token that claims to be part of the Shiba Inu ecosystem but was not officially announced by the team is fake.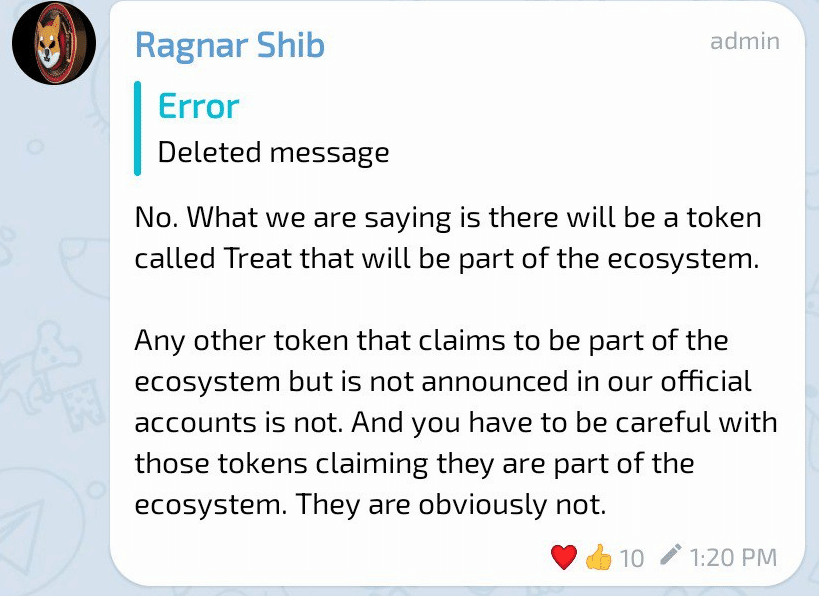 Shiba Inu Investors Advised to be Cautious 
Due to the nascence of the crypto scene, the industry has been plagued by scams and fraud schemes, with a recent surge in their prevalence. Shiba Inu investors are advised to remain cautious of new projects and always do their due diligence before committing funds to a project.
The Crypto Basic previously called attention to a fake Shibarium website placed as an ad on Google. A SHIB community influencer disclosed that several investors had reported a loss of funds to such scams recently. She implored community members to follow "@susbarium," a Twitter handle dedicated to identifying these scams.
Follow Us on Twitter and Facebook.
Disclaimer: This content is informational and should not be considered financial advice. The views expressed in this article may include the author's personal opinions and do not reflect The Crypto Basic's opinion. Readers are encouraged to do thorough research before making any investment decisions. The Crypto Basic is not responsible for any financial losses.
-Advertisement-