Cryfluenz, a groundbreaking platform designed to bridge the gap between crypto companies and influencers, announces its launch in the influencer marketing industry. Founded by Alexander Tikhonov, a seasoned entrepreneur with a background in online promotion and PR, Cryfluenz aims to revolutionize the way influencers and companies collaborate by introducing a unique Cost Per Action (CPA) model focused on delivering tangible results.
Alexander, the founder of Cryfluenz, brings years of experience in developing an online promotion and PR agency for international crypto companies. Recognizing the growing demand for influencer marketing and the need for a platform that prioritizes results, Alexander conceptualized Cryfluenz as a single ecosystem where both companies and influencers can thrive.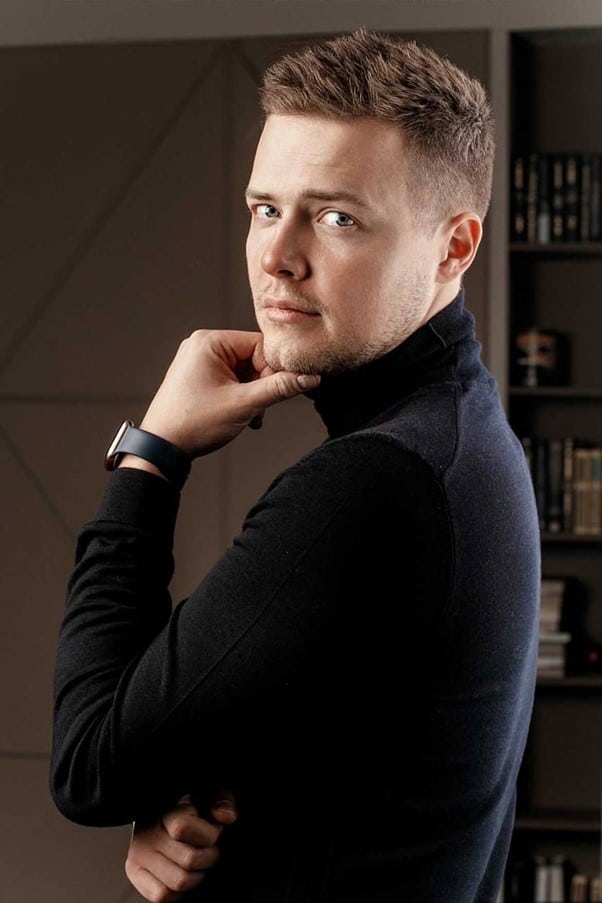 "The idea of developing a platform focused solely on results, specifically the CPA format, gradually formed in my mind," said Alexander. "While there are numerous CPA networks worldwide, our case stands apart. We believe the final result of any business is a transaction and payment. That's why we offer payments to bloggers solely from payments received from their audience or a commission from trading volume on exchanges."
The influencer marketing landscape is not without its challenges. Cryfluenz recognizes the pain points faced by both companies and influencers, aiming to address these issues through its innovative platform. For companies, finding the right influencers with the desired target audience and achieving a solid return on investment has proven to be a significant challenge. Meanwhile, influencers struggle with sifting through numerous offers from anonymous or untrustworthy companies, often resulting in wasted time and missed opportunities.
Cryfluenz sets itself apart by providing a solution that caters specifically to the crypto segment and crypto bloggers, estimated to exceed 400,000 in number. The platform's focus on the CPA model ensures that influencers are paid based on actual results rather than mere clicks or views. By partnering exclusively with legitimate companies that have already received funding from reputable sources and are listed in the top 100 CoinMarketCap exchanges, Cryfluenz ensures influencers have access to quality offers and a trustworthy environment.
One of Cryfluenz's key advantages lies in its robust infrastructure for digitizing actions and delivering real-time data to influencers. By providing influencers with key information about partnering companies in advance and offering a calculator to estimate potential earnings, Cryfluenz empowers influencers to make informed decisions and maximize their income. Additionally, Cryfluenz prioritizes speed, enabling influencers to receive their payments within 24 hours, as compared to the slower processes often associated with bureaucratic companies and exchanges.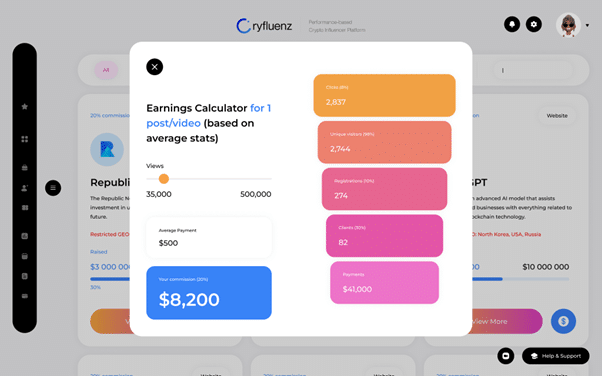 "Our platform goes beyond being a mere marketplace; it fosters a supportive community of influencers," added Alexander. "Through personalized notifications in Telegram, influencers receive valuable tips, stay updated on clicks, registrations, payments, and other important events, and have access to monthly Zoom sessions where top crypto bloggers share their experiences."
Looking ahead, Cryfluenz has ambitious business goals for 2023. With a current base of 15 team members, primarily comprising developers, designers, and project managers, Cryfluenz aims to onboard at least 20,000 active bloggers on a monthly basis, leveraging its extensive experience in crypto marketing and its vast database of crypto bloggers. The platform also plans to expand its team to accommodate its growing user base and enhance its services based on continuous feedback.
Cryfluenz aims to revolutionize the influencer marketing landscape by offering a results-driven platform that prioritizes the success and satisfaction of both companies and influencers. By introducing the CPA model and focusing exclusively on the crypto segment, Cryfluenz empowers influencers to unlock their full earning potential while providing companies with access to quality influencers and measurable results.
Follow Us on Twitter and Facebook.
Disclaimer: This content is informational and should not be considered financial advice. The views expressed in this article may include the author's personal opinions and do not reflect The Crypto Basic's opinion. Readers are encouraged to do thorough research before making any investment decisions. The Crypto Basic is not responsible for any financial losses.
-Advertisement-