Blaze Token burned over 3.60 billion SHIB in the past 24 hours and 11.55 billion monthly.
Blaze Token has once again grabbed the spotlight with its recent announcement that it has set fire to another 3,601,495,249 (3.60B) SHIB, worth $31,621, in a record-breaking transaction executed about three hours ago. This marks the most significant SHIB burn transaction of the year.
🔥BURN ANNOUNCEMENT 🔥$SHIB BURNT 3,601,495,249 BILLION 🚀🚀🚀$BLZE BURNT 2,164,376,989 BILLION 🚀🚀🚀

TOTAL TO DATE $SHIB BURNT 🔥 11,557,310,052 BILLION 🔥$BLZE BURNT 🔥 10,490,937,468.21 BILLION 🔥

JOIN US TO BURN MORE!!!#SHIBARMY #SHIBBURN

— Blaze Token (@blaze_token) May 29, 2023
Shib Burn also confirmed the transaction.
🔥🔥🔥 3,601,495,249 $SHIB -> transferred to dead wallet. https://t.co/GXpzc5UwZF

— Shibburn (@shibburn) May 29, 2023
Notably, this is the fifth time in just four weeks that Blaze Token has undertaken such a massive burning of SHIB.
Blaze Token first made waves on May 2nd, when it embarked on a burning frenzy by sending a great 2,005,265,274 (2B) SHIB to the dead wallet in a single transaction.
On May 8th, the project eliminated an additional 1,695,524,269 (1.69B) SHIB from circulation.
Undeterred, the token continued its burning spree, further reducing the Shiba Inu supply by 3,016,000,000 (3.01B) SHIB on May 15th.
The token set fire to a record 1,238,951,893 (1.23B) SHIB about last week.
Blaze Token has removed a humungous 11,557,310,052 (11.55B) SHIB from circulation forever through five separate transactions in the past 30 days.
The intense burning activity has propelled the overall burn rate to exceptional heights. The burn rate skyrockets by 38,873.42% compared to the previous day, where 231,886,112 (231.88M) SHIB were burned through eight individual transactions.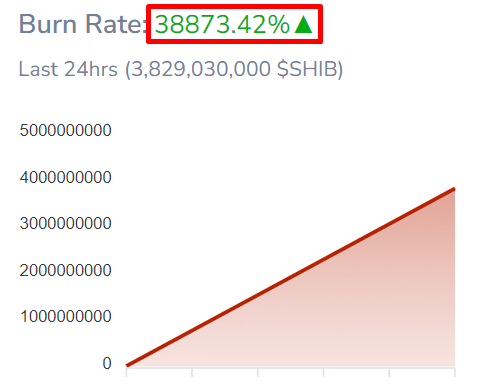 Follow Us on Twitter and Facebook.
Disclaimer: This content is informational and should not be considered financial advice. The views expressed in this article may include the author's personal opinions and do not reflect The Crypto Basic's opinion. Readers are encouraged to do thorough research before making any investment decisions. The Crypto Basic is not responsible for any financial losses.
-Advertisement-