Shiba Inu lead developer, comments on the planned strategy for Shibarium's upcoming launch and date, sparking community excitement and speculation.
Shytoshi Kusama, the pseudonymous Shiba Inu project lead, recently addressed the upcoming launch of Shibarium, emphasizing the importance of sticking to the planned strategy and timeline.
In a Telegram group chat, when asked about potential changes to the launch date or plan of Shibarium, Kusama responded confidently, stating: 
"It doesn't matter; everything is already set. I can't change the date or plan. It's called a launch strategy."
Lucie, the content marketer for Shiba Inu, shared Kusama's statement on Twitter, expressing excitement and indicating that the Shibarium launch was approaching.
Yes, almost there. pic.twitter.com/3uu1ie4o3h

— 𝐋𝐔𝐂𝐈𝐄 (@LucieSHIB) July 1, 2023
Wen Shibarium? 
The tweet quickly gained traction. Notably, Old Horse, an NFT artist associated with Shibarium, praised the team's strategic approach to the launch. The timing and handling of the launch were deemed crucial for its success.
In a related conversation in a Telegram group chat, someone identified as Mark commented, "Shibarium will launch at ETHToronto on 13th…." The Shiba Inu lead developer agreed to this view stating in playful terms, "Mark his words."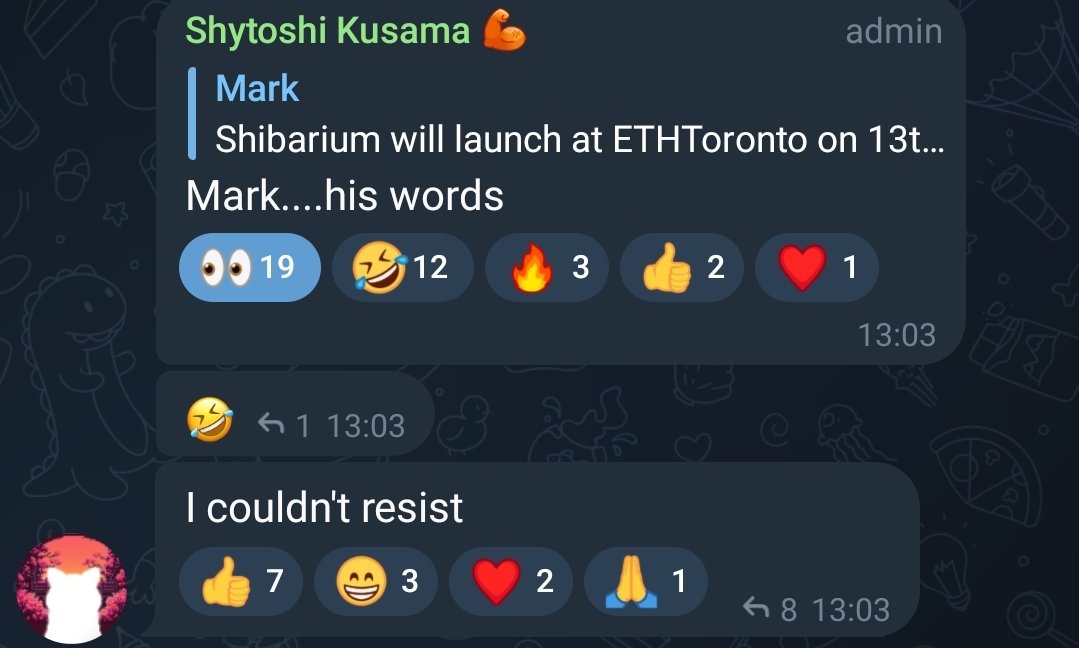 Another Twitter user speculated that the launch might occur at a prearranged venue where a large audience would gather to witness the event.
A Shiba Inu enthusiast brought up a previous statement from Kusama, mentioning a timeframe of two to four months for the launch, and noted that July 11 would mark the 4-month milestone since the beta release. The user stressed the importance of realistic expectations.
Amid the discussions, several commenters questioned whether the launch would occur on July 4, seeking clarification on the specific date. Nonetheless, as The Crypto Basic reported, Redhill Group CEO and Shiba Inu community member Austin Hilton predicted the Shibarium launch in mid-August.
Kusama disclosed two weeks back that the Shibarium launch is near. In addition, a Shibarium developer disclosed in May that the launch was closer than the community expected. Lucie, a Shiba Inu marketing specialist, also noted last month that Shibarium would launch at the ideal time.
Lucie also revealed the estimated timeline for the launch two months ago. According to her, she forecasts a launch date of August, while Kusama's projection is in July. Considering these, Lucie put up the timeline between Q2 and Q3 of this year.
Follow Us on Twitter and Facebook.
Disclaimer: This content is informational and should not be considered financial advice. The views expressed in this article may include the author's personal opinions and do not reflect The Crypto Basic's opinion. Readers are encouraged to do thorough research before making any investment decisions. The Crypto Basic is not responsible for any financial losses.
-Advertisement-