A certain investor made a whopping $1.5 million out of a $17 Shiba Inu investment as SHIB's price significantly increased within a year.
Shiba Inu (SHIB) continues to make millionaires out of early investors and long-term token holders. In the latest discovery by The Crypto Basic, data from the Ethereum explorer Etherscan reveals that an unknown and lucky crypto investor earned over $1.5 million from risking a meager $17 in SHIB in 2020.
$17 SHIB Investment Becomes $1.5M
A close look at Etherscan shows that the unidentified investor was among the earliest adopters of Shiba Inu. Notably, the trader purchased Shiba Inu on October 27, 2020, a few months after the canine-themed token was launched.
Data further show that the investor swapped 0.0436 ETH for exactly 202,179,695,624.57 SHIB tokens on this day using the popular DEX, Uniswap. At the time of the transaction, 0.0436 ETH was valued at $17.53, while SHIB was changing hands at $0.000000000085, with its market cap staying below $10 million.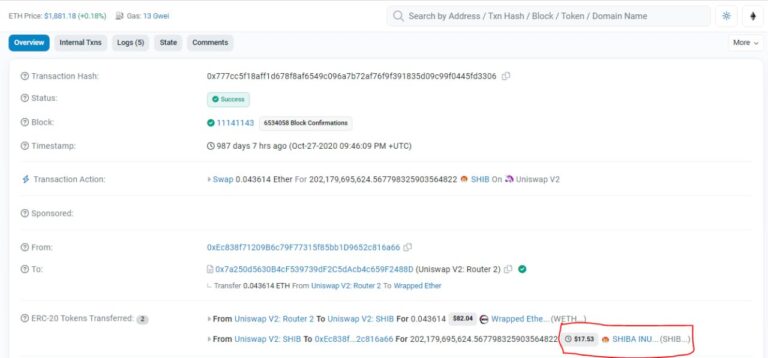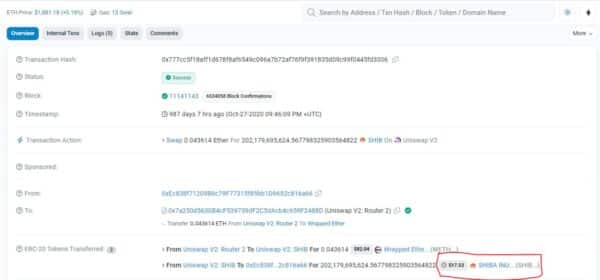 Following the increased hype and adoption of Shiba Inu from crypto enthusiasts in the following months after his purchase, SHIB's price appreciated exponentially. Accordingly, the investor took profits as this incredible surge increased the worth of his SHIB bag to more than $1.5 million.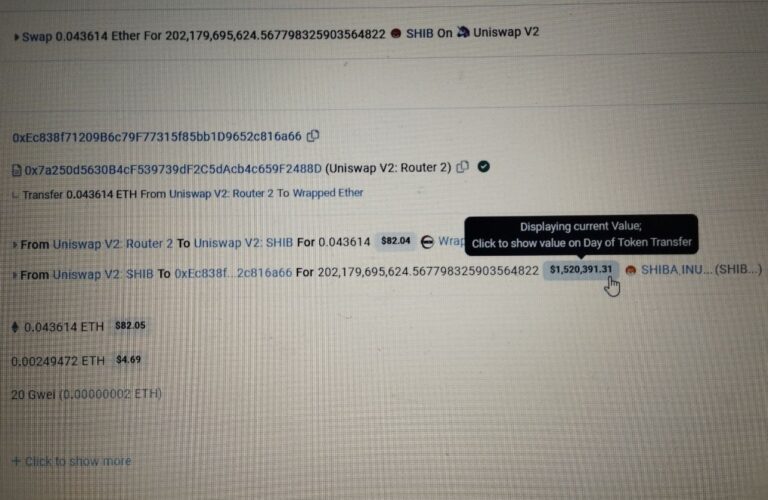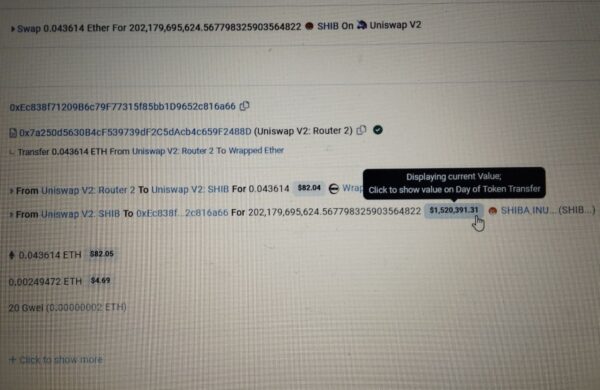 Upon taking profits, the Shiba Inu investor diversified his crypto portfolio by accumulating several other meme tokens, including Papa Elon (PLON), Dogey-Inu (DINU), Star Elon (Starlon), Egg Token, Dobbermann, and many others. 
More Winnings with Shiba Inu
This would not be the first time a small investment in SHIB turned out huge. As recently reported, two investors emerged as millionaires within a few months of taking a chance on Shiba Inu. While one was Rob, a former Supermarket warehouse manager, the other remained anonymous.
The anonymous Shiba Inu investor cashed over $5 billion from an early investment of $8,000. Likewise, Rob invested $8,000 in SHIB in February 2021.
Four months later, the former manager withdrew $500,000 to record his first profit taking as SHIB's price rose by about 1,100 times. Recall also that The Crypto Basic reported about a Shiba Inu trader who turned $30k into $450k within three years.
Due to this slew of success stories, some investors who missed out on the initial Shiba Inu rally remain hopeful of a similar price increase in the future. To this end, projections of a rally to $0.001 and even $0.01 have emerged.
Follow Us on Twitter and Facebook.
Disclaimer: This content is informational and should not be considered financial advice. The views expressed in this article may include the author's personal opinions and do not reflect The Crypto Basic's opinion. Readers are encouraged to do thorough research before making any investment decisions. The Crypto Basic is not responsible for any financial losses.
-Advertisement-