Prominent XRP influencer reveals intriguing XRP distribution insight as on-chain data suggests that the top 5% XRP holders own 11,000+ XRP.
Crypto Assets Guy, a prominent XRP influencer, recently took to Twitter to share an intriguing insight about the distribution of XRP holdings. He emphasized that any XRP holder with a balance of at least 11,000 XRP is among the top 5% of holders.
If you hold more than 11,000 $XRP you are on the top 5% holders

LFG 💪🏼

— Crypto Assets Guy (@cryptoassetsguy) August 8, 2023
On-chain Data Validates Claim
Data from XRP rich-list.info corroborates this claim, shedding light on the distribution patterns among XRP holders. Notably, the platform reveals that a substantial number of XRP accounts fall within the 10,000 to 25,000 XRP holding range.
In particular, 142,506 accounts fall into this bracket. Collectively, these accounts hold an impressive 2,163,069,440. XRP.
Delving into the specifics, the top 1% of the XRP rich list, which amounts to 47,352 individuals, possess at least 69,409 XRP each. Also, 236,762 accounts representing the top 5% hold over 11,011 XRP each.
Further down the list, the final segment comprises 473,525 accounts, with holdings of 3,514 XRP each. This group makes up the top 10% of the rich list.
Interestingly, a rarefied group of just 474 individuals stands out as exceptional holders. Each possesses a remarkable 6,064,380 XRP or more. This select group represents the top 0.01% of the entire rich list. The percentage further underscores the small concentration of wealth within the XRP ecosystem.
Meanwhile, the data shows that at least 1,997 accounts hold one million XRP and above. Particularly, 1,461 crypto investors hold one to five million XRP. Cumulatively, the group commanded 2,706,555,306 XRP valued at $1,702,423,287.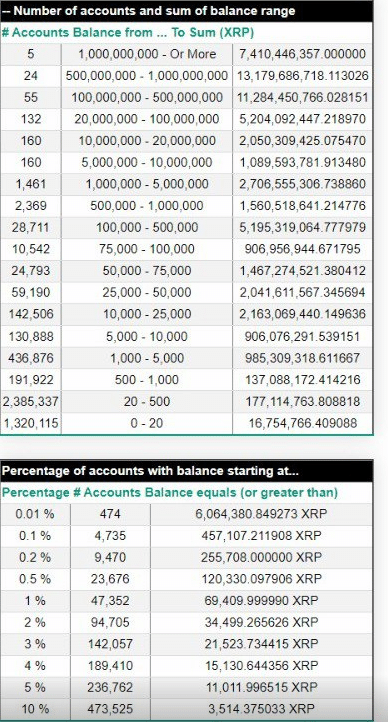 The Contributing Factor
As The Crypto Basic disclosed last month, the XRP ecosystem witnessed a surge in investor interest following the clarity of XRP's regulatory status. About a month ago, the US court ruled in favor of the XRP community that XRP is not a security but a digital asset. 
Concurrently, XRP trading volume burgeoned, putting it in a rivalry race against market bigwigs Bitcoin (BTC) and Ethereum (ETH). Interestingly, a top data analytic firm ranked XRP as the top traded altcoin of 2023, as The Crypto Basic reported.
Follow Us on Twitter and Facebook.
Disclaimer: This content is informational and should not be considered financial advice. The views expressed in this article may include the author's personal opinions and do not reflect The Crypto Basic's opinion. Readers are encouraged to do thorough research before making any investment decisions. The Crypto Basic is not responsible for any financial losses.
-Advertisement-