XRP OI declined from July's highest point of $1.19 billion to $465 million amid the bear crypto market.
The recent bearish trend that hit the crypto market saw XRP lose all its July regulatory price gains. Specifically, XRP now trades at $0.5222, down from about $0.82 a month ago.
Data from the prominent crypto derivative data analysis platform CoinGlass suggests investors' interest in XRP has also regressed.
In particular, CoinGlass data shows XRP Open Interest (OI) orders have dropped over 60% from its highest point in July.
XRP Open Interest Losing $725M
As of July 20, XRP OI orders were at a high of $1.19 billion. However, it has declined gradually over the past weeks to about $465 million today. This decrease represents a 60.92% negative growth.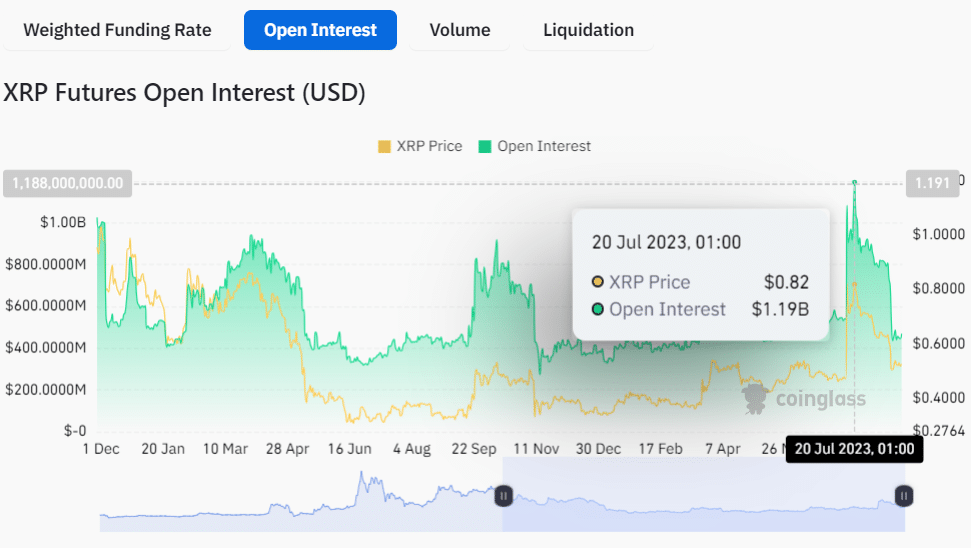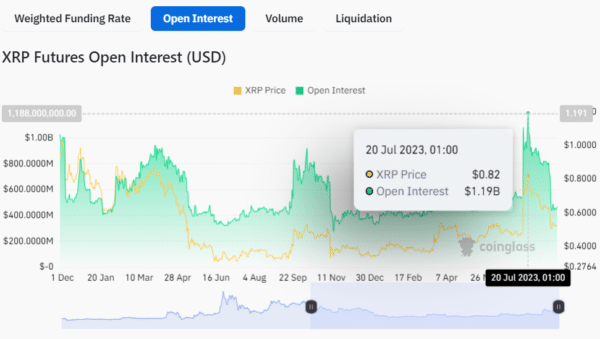 For context, XRP OI represents the total value of outstanding derivative contracts following the price movement of XRP. They are Futures or Options contracts. The value implies the total money market participants have invested in these contracts. 
XRP OI declining from $1.19 billion to $465 million indicates that traders are closing their XRP positions. Experts often interpret such a turnout as a lack of confidence in the token's future price movement.
According to Coinglass data, the exchange where most traders placed their XRP OI order is Binance. The cumulative value of Binance's OI is $128.85 million, with $93.23 million on Bybit.
Meanwhile, the $1.19 billion point value XRP reached last month represented one of its highest points in recent years. Before that, the last time XRP reached such a value was in November 2021.
Interestingly, that period was the peak of the previous bull market season. At the time, XRP traded around $1.20. The main propelling factor for last month was the victory in the regulatory lawsuit. 
Specifically, a federal court in the United States judged that XRP is not a security. The ruling immediately pushed XRP's price to double its value. 
Follow Us on Twitter and Facebook.
Disclaimer: This content is informational and should not be considered financial advice. The views expressed in this article may include the author's personal opinions and do not reflect The Crypto Basic's opinion. Readers are encouraged to do thorough research before making any investment decisions. The Crypto Basic is not responsible for any financial losses.
-Advertisement-